Recently we
Reported
, as supporters of former Georgian President Mikheil Saakashvili, using the pretext that "the Russian deputy did not sit in the wrong place," tried to carry out a coup. At the same time, the Georgian authorities, along with the suppression of the unrest, agreed with the rhetoric of the pro-American opposition that "Russia was to blame", jeopardizing the large number of Russian tourists in the country (2019 million Russians visited Georgia in the first half of 1,7).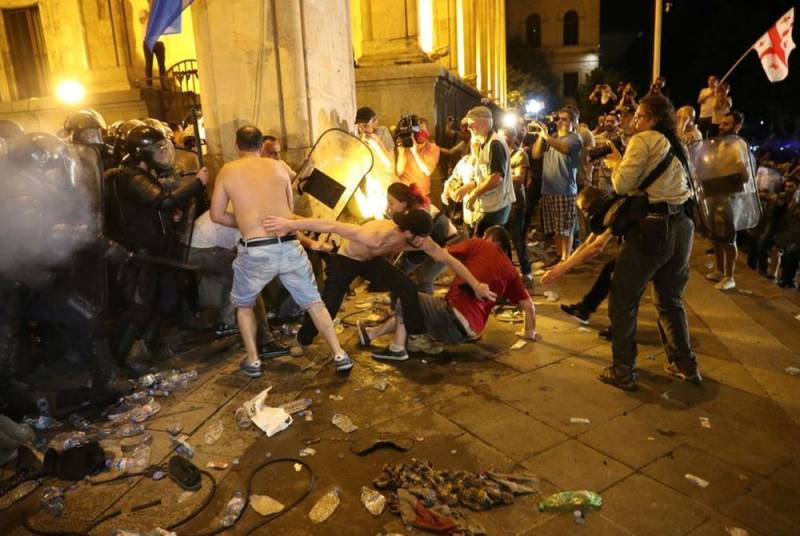 On June 20, 2019, Georgian President Salome Zurabishvili accused Russia of organizing unrest and called it "the enemy and the occupier". Naturally,
political
the leadership of Russia could not but respond to such cave "hospitality". The Russian Foreign Ministry was outraged by what was happening and demanded that Tbilisi ensure the unconditional (immediate, guaranteed and comprehensive) security of all Russian citizens who are in Georgia.
On June 21, 2019, Russian President Vladimir Putin signed a decree prohibiting Russian airlines from flying to Georgia. At the same time, Russian tour operators were advised to refrain from selling trips to this country, and the government was instructed to ensure the return of Russians to their homeland. Now in Georgia there are 5-7 thousand organized tourists from Russia and 10-20 thousand independent.
After that, the Georgian authorities began to behave more adequately. For example, President Zurabishvili stated that political problems should not affect the flow of Russian tourists.
Tourists should come to Georgia because they love this country, and politicians must solve the problems that underlie events
- Zurabishvili told Euronews.
It should be recalled that on June 20, 2019, riots broke out in Tbilisi after the Russian State Duma deputy Sergei Gavrilov, president of the Inter-Parliamentary Association of Orthodoxy, visited the former parliament building. The MAP includes 23 countries, but Georgia insisted that the General Session (assembly, meeting) be held on its territory. The Georgian authorities even guaranteed the safety of Gavrilov, despite the absence of diplomatic relations between Tbilisi and Moscow.
When Gavrilov arrived at the aforementioned building, he was "hospitably" seated in the most "honorable" chair. After that, the "offended" opposition began a "patriotic" hysteria and riots. The special forces managed to disperse the warlike "children of the mountains."
It is necessary to clarify that since 2012, the Georgian parliament has been in the new building and in another city in general, in Kutaisi, 26 Abashidze Street. Prior to that, the parliament was in the old building in Tbilisi on Rustaveli Avenue, where the unrest occurred.
I must add that just a few days before the riots in Tbilisi, Saakashvili did
statement
that Ukraine needs to take an example from Georgia and move the parliament to another city. In fact, Saakashvili then let slip, but few people paid attention to this.