Recently we
Reported
as the opposition in Georgia, under the pretext that the Russian deputy "didn't sit there," staged mass protests. Now pro-American activists of Georgian appearance, from among supporters of ex-president Mikheil Saakashvili, are demanding the resignation of parliamentary chairman Irakli Kobakhidze, Interior Minister Georgy Gakharia and a change in the election system in Georgia from mixed to proportional (only on party lists).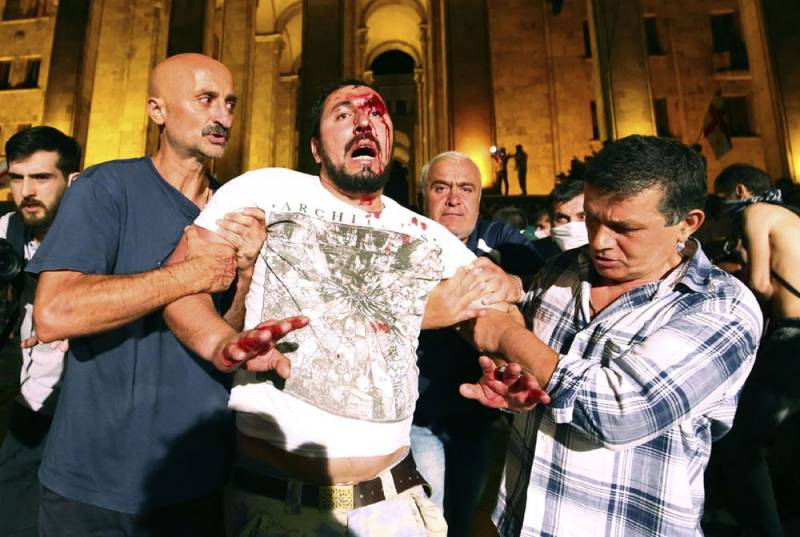 Another "rally", i.e. riots, the opposition appointed at 19:00 pm on June 21, 2019. It should be noted that Irakli Kobakhidze did not hold on to the speaker's chair, and he will remain a member of parliament. So, without waiting for the next manifestation of "democracy", he submitted his resignation from his post in order to reduce the degree of tension.
By the way, the lack of normal relations between Georgia and Russia does not prevent Russian tourists from traveling to this country and leaving money there. For example, in the first half of 2019, 1,7 million Russians have already visited unfriendly Georgia. The question is, what did all these people forget there?
We want to remind once again that since 2012, the Georgian parliament has been in the new building in Kutaisi at 26 Abashidze Street. Before that, the parliament was in the old building in Tbilisi on Rustaveli Avenue (now there are excursions), where the unrest described has occurred. That is, when Sergey Gavrilov, as president of the Inter-Parliamentary Association of Orthodoxy (MAP), the local "patriots" themselves hospitably seated in the "honorary" seat, then it was no longer the seat of the speaker of the Georgian parliament for about seven years. Moreover, the MAP was not established by Russia, but by the Greek Parliament (23 states in total).
In addition, the last protest wave in Georgia lasts from October 2018, when the seventh presidential election was held in this country. It will last, most likely, until the next parliamentary elections, which are due to take place in the fall of 2020. Moreover, it is extremely doubtful that Saakashvili's supporters will succeed in gaining power in the country in a revolutionary way during this time. After all, the current government has already shown the revolutionaries their rigidity.