The Russian state corporation Rostec wants to place mass production of gas turbines of high power (for power plants) GTD-110M on the premises of Power Machines PJSC. This was announced by Deputy General Director of the state corporation Dmitry Lelikov.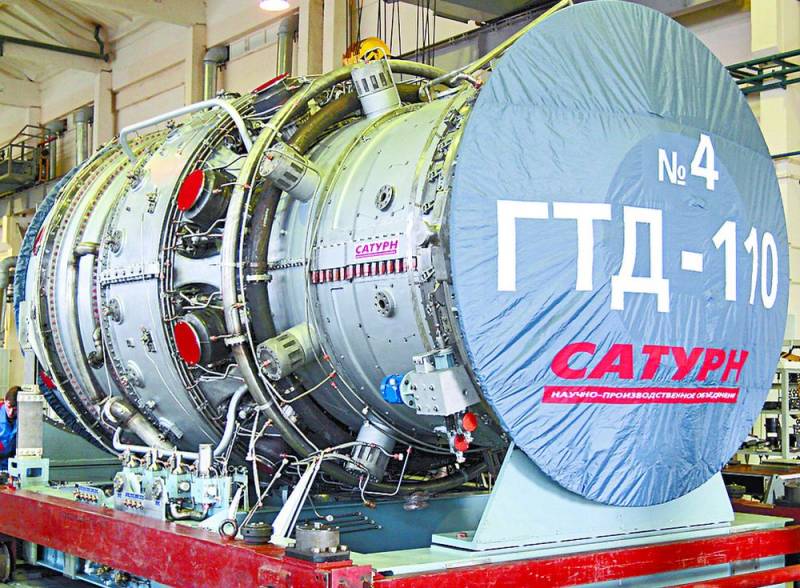 We expect that Power Machines will also be included in this work after the completion of the tests, when the question arises of the mass production of our turbines. The capacities of UEC-Saturn allow producing only two turbines of this class per year. Power Machines have significantly higher production capacities
- explained Lelikov.
Lelikov said that the GTD-110M tests have already passed into the working phase. He assured that the state corporation expects to get a result in 2019, but does not intend to stop there.
At the same time, a representative of Power Machines PJSC explained that their company is analyzing the possibility of locating the GTD-110M production on its premises. But the final decision will be made after the examination of the project.
We analyze the GTD-110M project for the possibility of serial production of turbines at the production facilities of Power Machines. A final assessment of the possibility of using production capacities will be possible only after
technical
and technological expertise of the project
- said the representative of Power Machines.
At present, in Russia there is no production of high-power gas turbines other than the joint production of Siemens and Power Machines (German technology). Siemens Gas Turbine Technology JV (STGT, 65% owned by Siemens, 35% owned by Power Machines). Therefore, Power Machines PJSC and ODK-Saturn PJSC, with the assistance of the Ministry of Industry and Trade (Ministry of Industry and Trade) of Russia, are working together on the issue of production of high-power gas turbines in Russia.
It should be noted that Power Machines PJSC is a Russian electric machine-building company. Its headquarters is located in St. Petersburg. Since June 26, 2013, 100% of the shares have been owned by Highstat Limited, whose beneficiary is Russian businessman Alexei Mordashov.
It should be recalled that GTD-110 was developed in 1997 by the state-owned NPKG Zarya - Mashproekt (Ukraine) as part of the Russian federal target program Fuel and Energy in accordance with the requirements of RAO UES of Russia. The first prototype was assembled by the developer independently. The second prototype was produced by the developer together with NPO Saturn OJSC (Russia). Subsequent serial production and modernization was to be carried out by NPO Saturn OJSC (PJSC UEC-Saturn). In turn, PJSC UEC-Saturn is part of the United Engine Corporation (UEC), which is a subsidiary of the United Industrial Corporation Oboronprom, which is part of the Rostec state corporation.