From June 17 to June 23, 2019, the International Paris Air Show at Le Bourget is held in France. This is the largest and oldest such event in the world. It takes place every two years on odd years at the airport of Le Bourget, 12 kilometers from Paris. And the first four days the salon works exclusively for specialists, then everyone can visit it.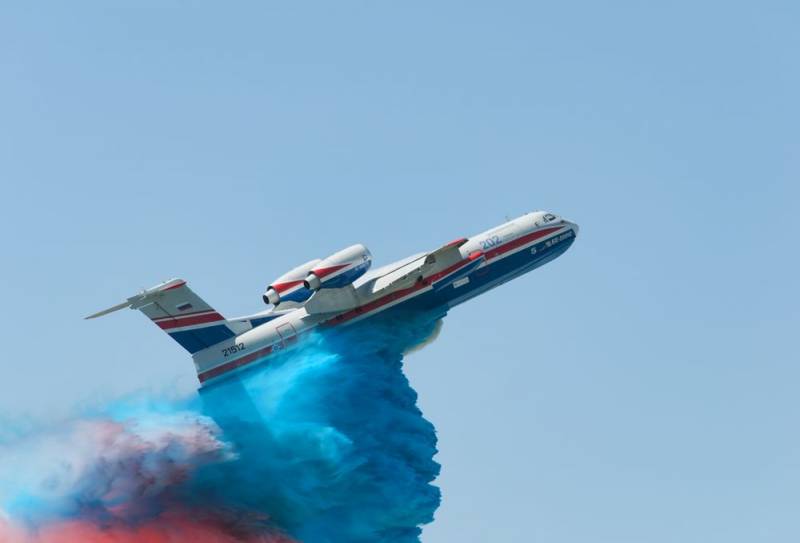 It should be noted that Russia is represented by PJSC United Aircraft Corporation (PJSC UAC), Rosoboronexport, Russian Helicopters, JSC United Engine Corporation (JSC UEC) and other companies. At the same time, Yuri Grudinin, Director General of PJSC Aviation Complex imeni SV Ilyushin (a member of PJSC UAC), has already announced on the sidelines of the exhibition that deliveries of Russian Be-200 amphibious aircraft to the American company Seaplane Global Air Services will begin in 2020 -2021 years.
Moreover, Grudini is the General Director - General Designer of PJSC Taganrog Aviation Scientific
technical
complex to them. G. M. Beriev "(TANTK them. G.M. Beriev). The main shareholders of TANTK them. G.M.Berieva are: NPK Irkut (39,6%) and OJSC Aviation Holding Company Sukhoi (38%).
We agreed, we have signed documents, 15 months from the start of financing. I think that funding is in the month of September
- specified Grudinin.
It should be recalled that in June 2018, Seaplane Global Air Services and TANTK them. G.M.Beriev agreed on a draft contract for the supply of 10 Be-200ES amphibious aircraft. In addition, in September 2018, Grudinin told the media that in Russia the project of the world's largest amphibious aircraft A-40 Albatros (Be-42) will be revived.
It must be added that some states in the United States regularly experience colossal forest fires that destroy entire cities, cause fatalities and cause serious damage. So it's good that the US authorities were smart enough to agree to such a contract. After all, American industry is not able to create something similar to the Be-200. By the way, earlier we
Reported
as China advised the United States to learn from Russia to deal with forest fires.