On June 16, 2019, the Polish landing ship Gniezno, with a total displacement of 1665 tons, disgraced itself and "glorified" the Polish Navy throughout the world. And he did it right before the eyes of tourists resting on the beach. He participated in the NATO exercises Baltops-2019 in the Baltic Sea and
"Courageously"
landed on the beach in Lithuania. Some Polish media outlets, in a fit of "patriotism" historically prevailing in them, wrote before that in the style of "Trembling Russia". And so, such an embarrassment.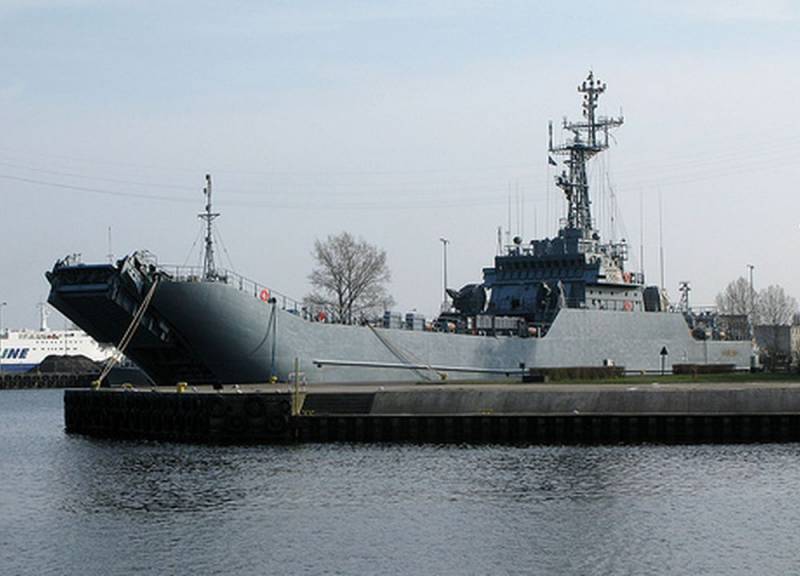 The crew managed to damage the ship on the stones on the beach. Moreover, a ship specially adapted for landing on an unequipped coast. The press secretary of the 8th Polish Navy Coast Defense Flotilla Grzegorz Lewandowski has already confirmed what happened.
The ship was practicing landing operations and during one of the exits to the beach collided with an underwater object, damaging the lining of the bottom
- Lewandowski reported sadly to the media.
The ship was supposed to return to base on June 17, 2019. During the incident, none of the Polish military was injured. All escaped with a slight startle. True, a hole formed in the hull and water began to flow into the ship, but the Polish Navy assures the public that the injured ship is in working condition. It was specially built under "totalitarianism" in such a way (1988) that it could calmly endure such situations. So don't worry - "stumbles", the Baltic is shallow.
It should be recalled that the NATO exercises Baltops-2019 are held from June 9 to 21, 2019 in the Baltic Sea. They must demonstrate the unity of "democracy" in the face of "Russian gas aggression" inexorably creeping toward Germany along the bottom of the Baltic Sea. 18 NATO countries take part in the exercises, more than 40 warships, 12 thousand military personnel and 40 aircraft are involved. The U.S. Navy's 2nd operational fleet, recreated in 2018, even partially got here.
But the Poles ruined everything. However, it is already a tradition for someone to spoil NATO exercises. For example, in November 2018, the crew of the Norwegian frigate Helge Ingstad, worth about $ 500 million, simply sank its ship in the Norwegian Sea, cheerfully celebrating the return of the Trident Juncture from NATO exercises. But Norway is a rich country, there is a lot of gas, which is so expected in Poland.
So we will be watching with undisguised interest the next NATO exercises in the waters of any sea. And we are also waiting for reports in the Western media that the Russians damaged the next Alliance ship and the iceberg crew has already been presented for state awards in the Kremlin.