Recently we
Reported
as Moscow demanded an explanation from London after the British media, including The Guardian, published information that the British Ministry of Defense had developed a plan to reorient the activities of its special forces from the fight against terrorists in Syria and Iraq to confront Russia. And now, the British The Guardian is already informing readers that London and Moscow are exploring the possibility of defrosting diplomatic relations.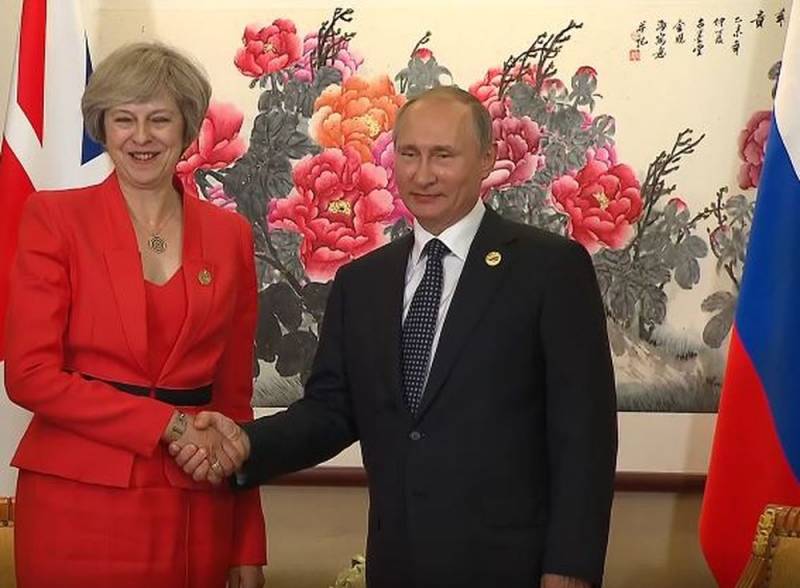 The publication simply forgot that it was published last week. According to the publication, Moscow and London are allegedly exploring the possibility of meeting the departing
political
The non-existence of British Prime Minister Russophobia Theresa May and Russian President Vladimir Putin at the G-20 Summit in Osaka (Japan). The summit should be held very soon, from June 28 to 29, 2019, so that time is running out, because before that no meeting was planned. In turn, May has already announced her resignation and announced that she will deal with her husband, cooking and cricket. Therefore, does it make sense for Putin to meet with her is not entirely clear.
It should be noted that we do not know where the Guardian got this information from. Since a whole turn has already been lined up for a meeting with Putin, starting with US President Donald Trump, and the summit is "not rubbery" and will last only two days. In addition, if Russophobe Boris Johnson (the most likely candidate) becomes Prime Minister at the time of the summit in the UK, then talk of a meeting looks even more dubious.
At the same time, The Guardian, in order not to look ridiculous at all, notes that the meeting will be scheduled only if both parties are confident in the productivity of the negotiations and will be able to agree on the agenda. Moreover, immediately after mentioning this, the publication writes that a possible meeting will be the first after the "poisoning" of the Skripals in Salisbury in March 2018. After which a stable British hysteria begins in the style of "Russia - admit poisoning" and then Great Britain "generously" agrees to "partially restore relations under certain conditions".
It is specified that London does not expect "confession" from Moscow. The UK only "modestly" hopes that Russia will publicly guarantee that this will not happen again. After that, Misty Albion will believe that the Kremlin has drawn the right conclusions. At the same time, it is not specified why Moscow needs this whole circus.