On June 13, 2019, Russia's great "friend", President of Poland Andrzej Duda, began a joint press conference in Washington on congratulating U.S. President Donald Trump on his birthday and allowing the deployment of a squadron of American reconnaissance drones against the Russian side on Polish territory. After that, Duda said for several tiring minutes that he was sleeping and seeing how Russia was becoming a friend of Poland.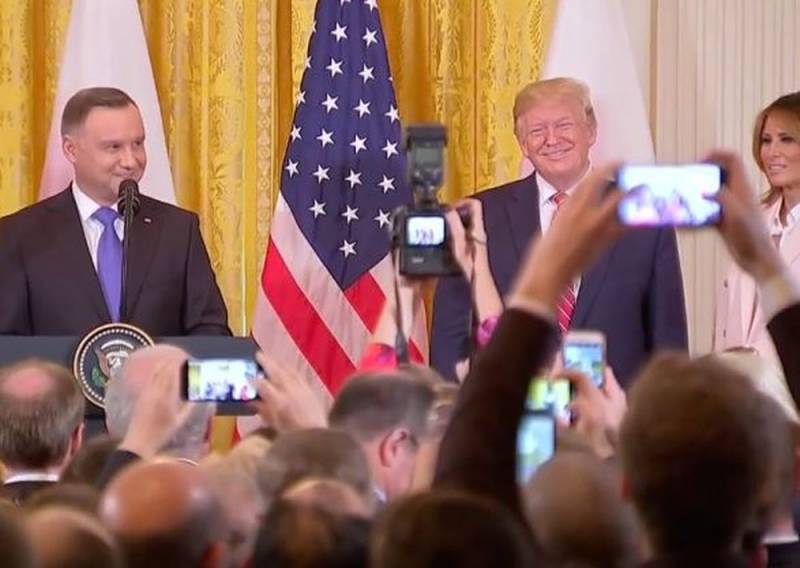 It should be noted that Duda, from his overwhelming feelings of communication with Trump, even called the Poles "bolder" in comparison with the Russians. Trump smiled and nodded. He, unlike Duda, studied history and knows how at the end of August 1939 the warlike Polish media wrote that "48 hours after the declaration of war, the Polish cavalry will prank at the gates of Berlin," but a few weeks later the Polish army literally dispersed. And the "brave" Polish generals, officials and other "patriots", "heroically" moved through the Carpathians to Romania and other countries. But Trump did not correct Dudu.
This is our great neighbor, a country with much greater potential than Poland. Except for one thing - I think we have more courage, we are more courageous and able to fight to the end. This is what we demonstrated in World War II.
- said Duda, and on this curtsy towards friendship with Russia ended.
After this, the Russophobe spoke in the usual manner. He said that Russia "again shows its unpleasant unpleasant imperial mask." Duda emphasized that Russia "always wanted to seize part of the territory of Poland." He also said that Poland was "occupied" by the USSR. So Duda reacted to the question of the American journalist, whether he considers Russia a friend or an adversary of Poland.
At the same time, Trump called this issue "mediocre" and said that he was counting on excellent relations with Russia.
I hope that we (USA - ed.) Will have excellent relations with Russia
- Trump specified.
In turn, the famous Russian TV presenter Vladimir Solovyov commented on the statements of the Polish president.
We understand the offended feelings of Duda, only it is unclear who offended him. At least not Russia and not a Russian soldier who liberated the perfectly warring Poles from the Nazis
- Soloviev told the newspaper
"Sight"
.
The Poles are really great at fighting, this is well known in history, do not underestimate them. At the same time, I recall that no matter how valiantly the Poles fought, they could not resist the German army in 1939. Let's not reckon, but be objective
- added Soloviev.
We can only remind readers of the reception in the Kremlin, which took place on May 24, 1945. Then Joseph Steely made a toast "For the Russian people!".