Recently we
Reported
as on the morning of June 13, 2019, "unknown torpedoes" attacked oil tankers in the waters of the Gulf of Oman. The following vessels were attacked: "Front Altair" under the flag of the Marshall Islands (owner, Norwegian company Frontline) and "Kokuka Courageous" under the flag of Panama. They sailed from Saudi Arabia to Singapore, but were seriously injured and caught fire.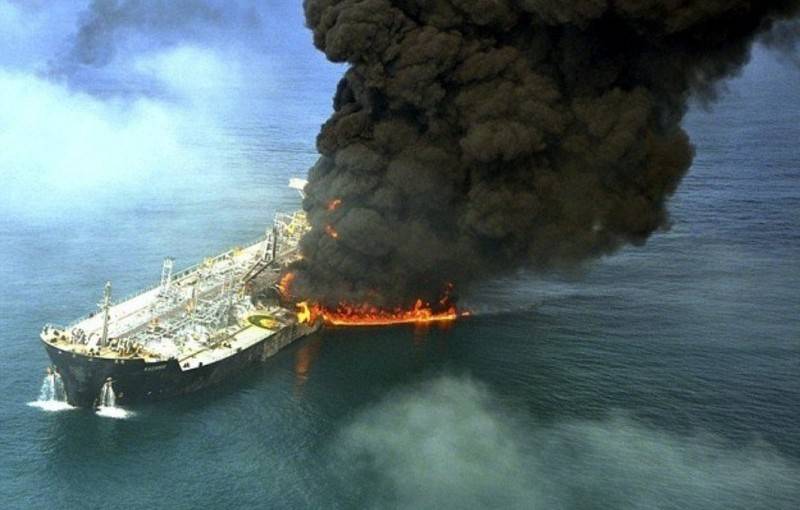 The sailors gave a distress signal and the Iranian rescue services came to their aid. Because of the fire that began, sailors jumped into the water. Iranians evacuated 44 sailors aboard these two tankers. The crew of one tanker was 23 crew members, and the second - 21. The crews included citizens of Russia, Georgia and the Philippines. They have already been delivered to the port of Jask by the Naji.
The Arab media reports that the Front Altair tanker (transporting 75 thousand tons of naphtha), after the thundering three explosions, has completely sunk. However, Frontline informs that they were not drowned - "it is still burning in the Gulf of Oman."
At the same time, the Norwegian newspaper VG, citing the shipowner of the Kokuka Courageous tanker, reported that the vessel had a hole on the starboard side, the crew left the vessel, one of the crew members was injured, but he was already given medical assistance.
# BREAKING: Watch the aerial footage showing the aftermath of #IRGC's Torpedo attack at Front Altair Oil Tanker carrying Methanol from #Qatar to #Taiwan in #Oman Sea Video is released by #PressTV and is recorded from #IranNavy SAR helicopter flying from the #jask's Naval Heliport pic.twitter.com/logxLkBe6P

- Babak Taghvaee (@BabakTaghvaee) June 13, 2019
Kokuka Courageous remains in the area and is not at risk of flooding. Cargo with methanol on board intact
- optimistically specified the company representative.
Meanwhile, the Arab media emphasizes that Kokuka Courageous is on fire. In this regard, oil prices are expected to rise on world exchanges.
Before this, May 12, 2019, we
Reported
how "unknown planes" attacked oil tankers in the port of Fujairah in the United Arab Emirates (UAE). After that, the United States, Israel and Great Britain in unison declared that this was the work of the "Iranian military."
In this regard, a similar hysteria is expected about the second incident. Militant lovers of "democracy" and other non-traditional values ​​have already switched to the use of submarines and combat aircraft, threatening the well-being of all mankind.