The British press has been telling for seven decades how North Korean leaders execute their enemies, traitors, and high-ranking officials. It was even reported about the firing of grenade launchers, but the longest-lasting mentions of heavy machine guns lasted. During this time, several generations of people in the West managed to grow up, which simply stopped responding to such fakes.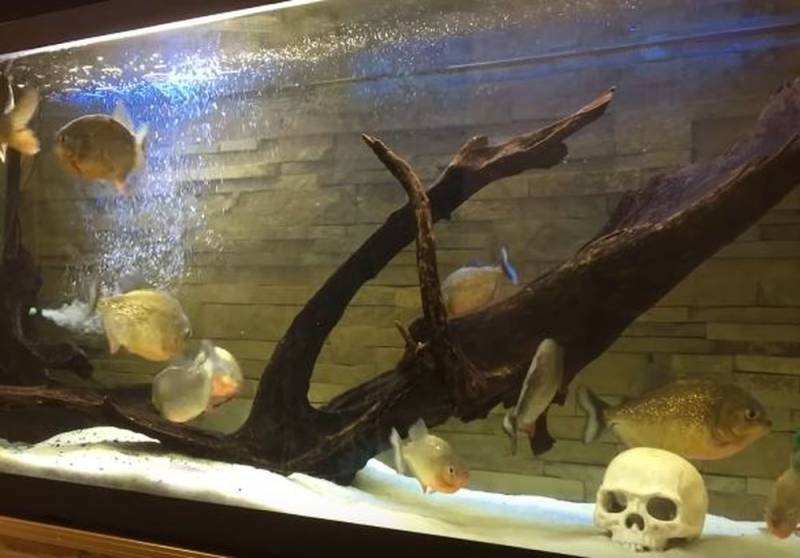 After all, after such publications, very often, one or another "North Korean official" shot in the British media appeared, as if nothing had happened, with one or another North Korean leader in the theater or at some official event. So it is not surprising that readers simply stopped responding to such messages.
It should be noted that the British really have a lot of experience in non-traditional executions. For example, they invented the "devilish wind". This is the type of death penalty when a convict was tied to a gun's vent, after which he was shot either with a core or simply with a single charge of gunpowder to save ammunition. So the British "had fun" the whole XIX century in India. So they really have a lot of experience.
So, the British tabloid Daily Star, citing its own "informed sources", told readers that the DPRK leader Kim Jong-un has tested a new method of death penalty. He allegedly threw into a huge aquarium with piranhas of a general who was guilty of something.
It is emphasized that the piranhas were very hungry. However, the surname, name and patronymic, as well as the position of the "executed" are not reported. And this is right, because soon this official would appear in the North Korean media with some kind of speech.
At the same time, Daily Star clarifies that the general was allegedly suspected of preparing a coup. A huge aquarium with piranhas is allegedly located right in the main residence of the leader of North Korea.
Moreover, the Daily Star provides details of what happened. Allegedly, before the general was thrown into a huge aquarium teeming with predatory fish, several stab wounds were inflicted on him. At the same time, an "informed source" claims that the exact cause of the death of the general remains unknown. He could die from bleeding wounds, fish bites or drown.
Kim is used to bullying people. Many enemies of the state were executed publicly. He wants everyone to know, even his close associates, that no one is safe from painful death if he suspects something is amiss. He executed members of his family and killed high-ranking officials. Just because they clapped a little during one of his performances
- Anonymous "source" told reporters.
It should be recalled that a few days before this, Kim Jong-un attended a concert with his deputy, Kim Yong Chol. This is exactly what Kim Yong Chol was sentenced to "penal servitude" of the media before.