In late May, Kiev took a serious step. A Kiev court seized five Ruslan aircraft owned by the Russian Volga-Dnepr airline. Aircraft were arrested, and third parties were forbidden to carry out any actions related to their landing, maintenance and departure. Given the fact that the Ministry of Defense of the Russian Federation is the main operator of these products under the brand of the Ukrainian Antonov, this event will have far-reaching consequences.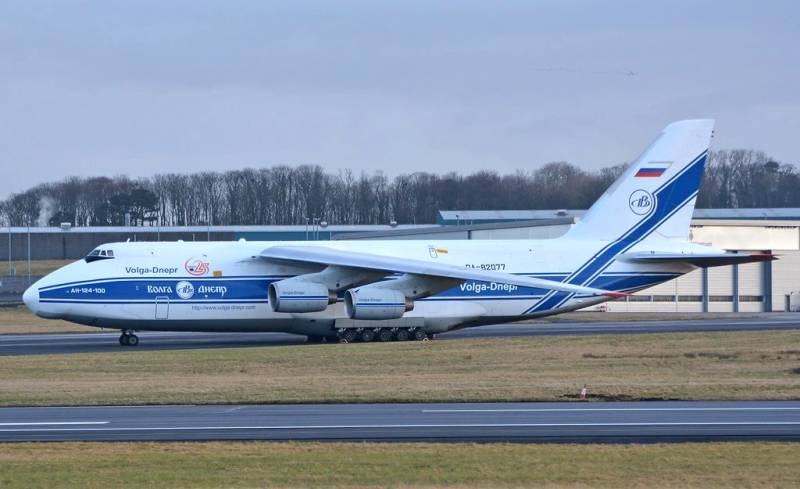 Ruslan, aka An-124, is a Soviet heavy transport aircraft. In total, 55 pieces were produced. Assembly was carried out simultaneously in the Russian city of Ulyanovsk and in Kiev. The entire Soviet Union and collectives of hundreds of enterprises took part in the development of a transport carrier unique for its time.
Unfortunately, after the collapse of the USSR, Antonov went to Ukraine. In fact, having killed its own aircraft manufacturing industry, Kiev parasitized all previous years, exploiting the intellectual property of the Soviet enterprise it inherited. According to experts, for every "sneeze" associated with servicing and extending the resource of products under the An brand, Russia was billed large, despite the fact that most of Ruslan was actually produced in Ulyanovsk.
Now this ugliness can be put to an end, thanks to the greed and shortsightedness of Kiev. What did Ukrainian politicians try to achieve with such a biased court decision?
First, Independent is not averse to ousting a Russian competitor from the oversized cargo transportation market, where Volga-Dnepr uses An-124.
Secondly, this is another blow to the Ministry of Defense of the Russian Federation, in which Ruslana's fleet is widely represented. An-124 is a "heavy truck" of our military transport aircraft.
How can our country get out of the situation?
The revival of Ruslan?
The last few years there has been an active discussion about the possibility of reviving the full-fledged Ruslan production in Ulyanovsk. Officials made encouraging statements, but in the end this idea was put off the cloth. Earlier
we told
that the main stumbling block was the lack of its own turbojet engine of sufficient power. It is possible that this topic will again become relevant after the start of production of the promising PD-35 aircraft engine.
Rebirth of "Ruslan"?
If it turned out that now domestic industry is not capable of such a task, then we can go through "modernization". So German Siemens turbines became "Russian" with the help of a "file" and now work in Crimea, despite the sanctions.
Well-known expert Ruslan Gusarov explains:
If one of the Russian design bureaus, and I think it will be Ilyushin ... will make the modernization of these aircraft and certify them as a new type of aircraft, then they will legally be able to continue flights, and no decisions of the Kiev courts will be given to us.
With a flick of the wrist, the An-124 can degenerate into an Il-124, and Ukrainian partners will be able to say hello.