Recently we
Reported
, as the former president of Ukraine Leonid Kuchma, as the representative of his country in the contact group for the settlement of the conflict in the Donbass, on June 5, 2019 proposed lifting the blockade from the Donbass and reinforcing the inadmissibility of return fire. Representatives of the DPR and LPR supported these proposals, and the Ukrainian "patriots" accused Kuchma of "zrada" (betrayal).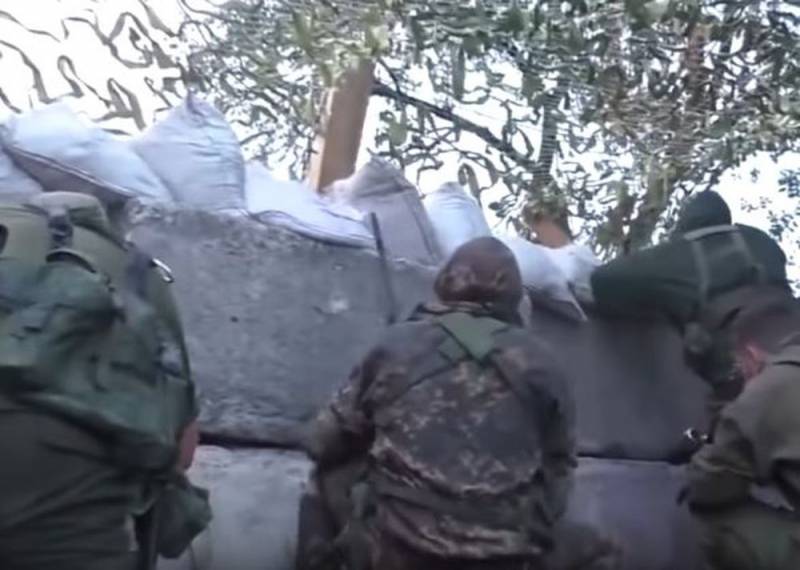 And so, on June 6, 2019, the site
"Russian Spring"
informed the public that the head of the press service of the DPR People's Police Department, Daniil Bezsonov, posted on his Telegram channel footage of "the destruction by the sniper of the Ukrainian occupier". At the same time, clarifying that the location and time of the shooting are unknown.
It should be noted that the video really shows how a group of military personnel of the Armed Forces of Ukraine are in the "front" installation of a masking grid over the dugout. At the same time, they see a camera that is monitoring them, and fearlessly work at full height. One of the servicemen showed an indecent gesture, towards the aforementioned camera and literally after 10-15 seconds a sniper shot him.
This soldier, at this time, did not shoot at anyone, he was killed for an indecent gesture, but some give the sniper shot as a feat. Tell me, what kind of ceasefire can we talk about if the head of the press service of the DNR NM Bessonov publishes such a thing at home? Yes, in Ukraine, "patriots" are only happy with such videos, because these shots confirm their correctness.
Moreover, this publication coincides with the message of the Svatovsk district state administration of the Luhansk region:
June 5, 2019, an enemy sniper bullet cut short the life of the hero and devoted defender of Ukraine - Berezhnoy Vladislav Olegovich
Berezhnoy was born on June 11, 1996 in Svatovo, Luhansk region, i.e. he is a local resident. In 2014, immediately after school, he voluntarily resigned from the Armed Forces of Ukraine. He served in 54 brigade. He left a wife and a small child.
We do not know if we are talking about the same soldier. However, we know for sure that there is a civil war in Ukraine, and the video about the "heroic sniper shot" only incites hatred even more.
It is clear that anything can happen on the demarcation line. But do not publish such videos on behalf of those who occasionally call for peace, and even in such a vein as this time. Was it really hard to write that "they shot their own."