The design of most modern passenger liners, with engines mounted under the wing, a cigar-shaped fuselage and single-tail plumage, as practice has shown, does not allow to achieve a significant reduction in fuel consumption. That is why some aircraft designers are actively "promoting" other schemes.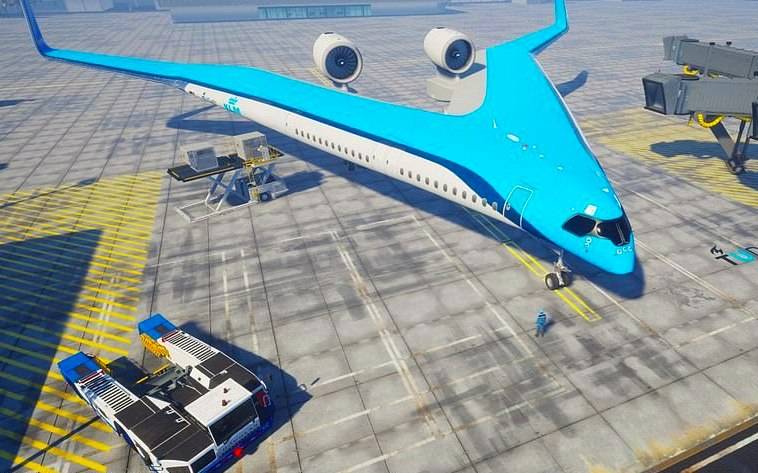 So, the day before, in the Netherlands, the concept of a passenger aircraft with a V-shaped fuselage was developed, developed according to the mixed-wing scheme and called Flying V. Engineers from Delft University and KLM Airlines say that the wing span and the number of passenger seats in their device correspond to those of Airbus A350. But unlike the latter, a new plane with a bifurcated fuselage will consume 20% less fuel due to a decrease in drag and high lift.
The mixed wing scheme implies a V-shaped fuselage, bifurcating in the middle. Turbofan engines are installed on the upper parts of the inner surfaces of the latter, and in the rear, both halves smoothly pass into the wing consoles with wingtips.
The size of the aircraft will be 55 meters in length and 17 meters in height. At the same time, the wingspan will be equal to 65 measures. Flying V can accommodate 314 passengers, and the internal volume of the cargo compartment will be 160 m³.
Despite the fact that at the moment the "unusual" passenger liner was presented only on renderings, the developers plan to assemble and test the flying prototype by October of this year. During testing, a low-speed flight will be carried out, as well as the take-off and landing modes.