The US Congress has prepared a new sanctions package that could cause serious damage to Russia. Sanctions include a ban on operations with government loan bonds, as well as bonds issued by a number of Russian state banks.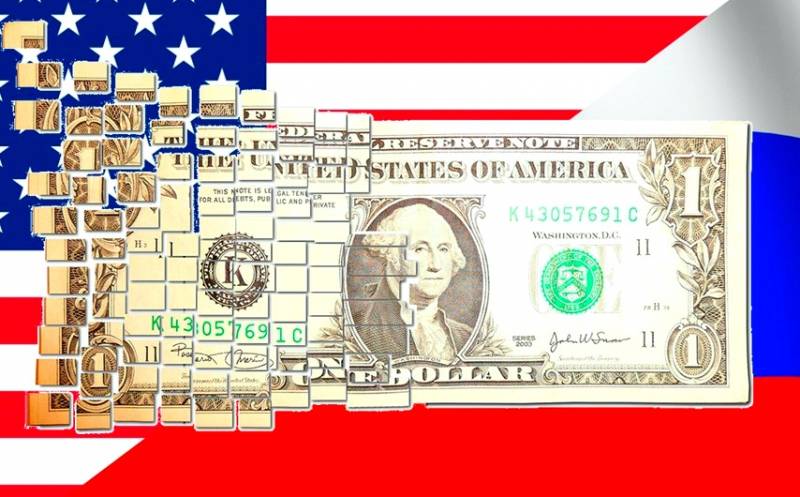 The project was sponsored by two congressmen: Republican Joaquin Castro and Democrat Mike Turner. We see that membership in various political parties does not interfere with anti-Russian activity.
What does the bill provide?
This document is directly related to the poisoning of the Skripals, having received the proud name "Act of solidarity with Britain against violations of Russia."
The project provides for the complete prohibition in the USA of any operations with Russian government debt. This could be a significant blow for Russia, since, according to the Central Bank, 34 percent of Russian government bonds are owned by foreign owners.
The sanctions cover any debt securities of the Central Bank, the National Wealth Fund or the Ministry of Finance of the Russian Federation, the circulation term of which exceeds 14 days.
In addition, bonds of seven Russian state-owned banks are also banned. This list includes: Gazprombank, Vnesheconombank, VTB, Sberbank of Russia, Russian Agricultural Bank, Promsvyazbank and Bank of Moscow.
The new law will only apply to securities issued after its entry into force, that is, after 180 days.
The bill also provides for blocking the operations of any of the seven Russian state-owned banks on the sanctions list.
Transactions with the assets of these institutions will also be prohibited if they are located in the United States or controlled by legal entities of that country. This also applies to those assets that are in shared ownership.
Implications of the Bill
Even if the US President wanted, he could not block the bill. If it is adopted, Russia faces serious troubles.
Moreover, the market has already begun to respond to this
news
. The result was a collapse in the exchange rates of Russian securities, as well as a sharp drop in the ruble against the dollar and the euro.
Let us hope that the Russian leadership was not taken aback by these actions of the American side, and the response measures were prepared in advance. After all, if you bully a bully, you should understand that he is likely to get into a fight.