We recently reported how the patriarch of the former Ukrainian Orthodox Church of the Kiev Patriarchate (UOC-KP) Filaret (Mikhail Denisenko)
spoke up
about the split already in the Orthodox Church of Ukraine (PCU), told how President Poroshenko and the head of the PCU Epifany (Sergey Dumenko) deceived him and
I refuse
fulfill some tomos conditions. And now, it became known that the schismatic Filaret did not sign an agreement (oath) of allegiance to the charter of the PCU, as Epiphanius had already told the Ukrainian media.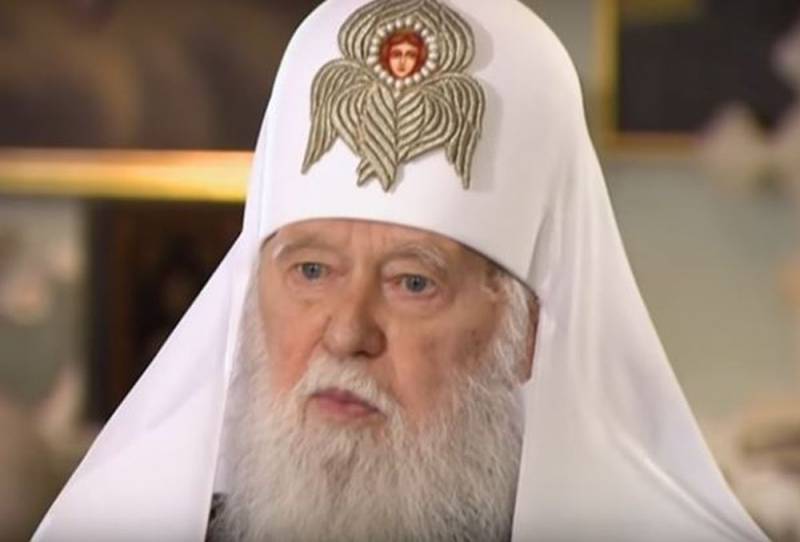 So, Epiphanius said that Filaret became the only participant in the Synod of the PCU who did not sign the mentioned document of fidelity. However, he clarified that the Synod does not require the consent of all participants to make decisions.
We decided that the PCU will be guided by scripture and the charter that was adopted on December 15 (2018 - ed.) Here, within the walls of Sofia, Kiev. It is sad that the last decision was not signed by only one member - Patriarch Filaret
- said Epiphanius.
But this is not all, since, according to Epiphanius, the members of the Synod of the Ukrainian Orthodox Church tried to convey to Filaret the fact that his schismatic structure (UOC-KP) no longer exists. However, he could not be convinced.
Filaret said that what he made public was what he testified at at the meeting of the Holy Synod. That is, that the Kiev Patriarchate exists, it is not deregistered
- specified Epiphanius.
In turn, Filaret said that Epiphanius was surrounded by "pro-Moscow forces." He announced this directly at the Synod of the Ukrainian Orthodox Church in Sofia in Kiev.
Our primate was surrounded by pro-Moscow forces who came here to ruin our church
- said Filaret.
But to the question who represents these "pro-Moscow forces", Filaret refused to answer directly.
I will not say. But if necessary, I will name everyone by name
- clarified Filaret.
Well, we, with undisguised interest, will be watching this "tug of war". Indeed, in a country where there are two "patriarchs" in one obscure religious organization (Filaret is the "honorary patriarch" of the PCU, and Epiphanius is the primate), there will always be a third place. The sad thing is that this whole booth takes place under the arches of ancient Sophia of Kiev.