On May 23, 2019, the Kremlin hosted a meeting between Russian President Vladimir Putin and his African counterpart from the Republic of Congo (not to be confused with the Democratic Republic of the Congo) Denis Sassu-Nguesso. The high parties discussed a wide range of issues of further cooperation between the two countries.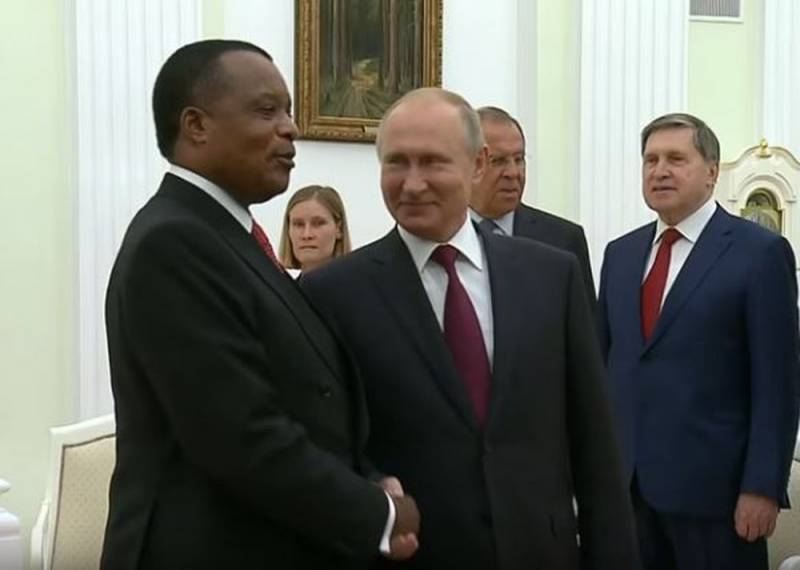 In the presence of both heads of state, relevant officials signed a contract to send Russian military specialists to the Republic of Congo. And as the deputy head of the Russian Ministry of Defense, Colonel-General Alexander Fomin, explained, the mentioned contract concerns, first of all, the maintenance and operation of the military
equipment
Soviet and Russian production, which is owned by the Republic of the Congo (this is the former colony of France).
This is a new contract, but in general it is a continuation of a very beautiful story that was once started under the name "military and military-technical cooperation", we continue it and we are happy about it
- emphasized Fomin.
Fomin added that Moscow and Brazzaville are negotiating the supply of Russian military equipment. He noted that the Russian side expects a corresponding request from its Congolese partners for the supply of new equipment. After all, the Republic of the Congo needs technology, and Russia has already proven the effectiveness of its products in Syria.
It must be recalled that before this, on May 22, 2019, President Sassou Nguesso made an important statement while being at the plenary meeting of the State Duma of Russia.
The oil pipeline will pass through the territory of the Republic of Congo and will have a length of more than 1 thousand km, it is thanks to this pipeline that the supply of oil products and gas products to our country will be ensured. I think that this project can give our countries mutually beneficial cooperation opportunities, which will become an important page in the history of our relations. I appeal to you ... with an appeal to support the Republic of the Congo in this project, provide for optimal conditions, a special preferential status, show solidarity and work for the effective implementation of this project in the interests of both our countries
- Sassou Nguesso said, urging Russia to support this project.