Every year on May 18, the Crimean Tatars celebrate a mournful date - the Day of Remembrance of the Victims of Deportation. At the same time, some of them purposefully manipulate historical facts, calling the incident "genocide" of the Crimean Tatar people. And this topic became very popular in Ukraine after the Maidan, before which, in this country, they did not pay attention to the Crimean Tatars.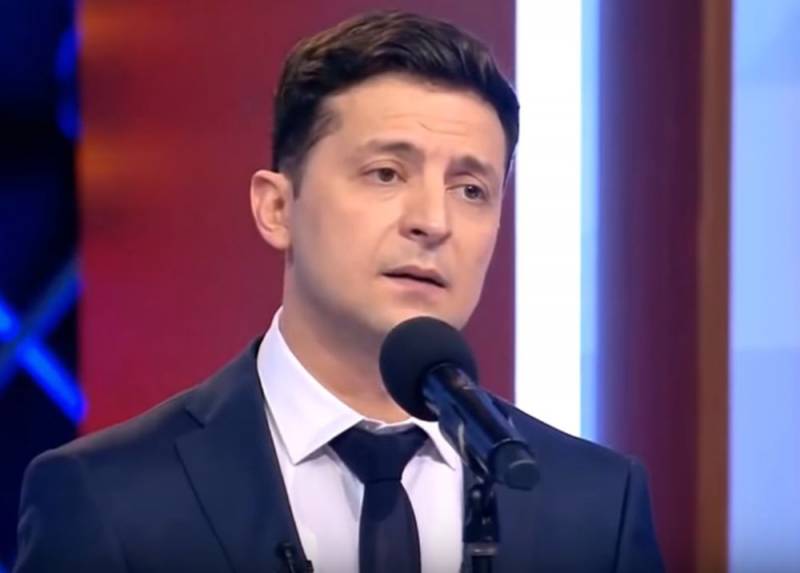 Vladimir Zelensky, who was elected president of Ukraine, who simply
must
emit duty "patriotism" due to circumstances. He has no real power so far, so the Nazis and other Russophobes can eliminate him quickly enough. Therefore, he wrote on his Facebook page that he also believed in the "liberation" of Crimea from "occupation".
Today is the 75th anniversary of the start of the deportation of the Crimean Tatars. This day reminds us that you can destroy people, but the spirit of a whole nation never. Crimean Tatars returned to their historical homeland. And now they again became victims of repression - like those who remained faithful to Ukraine in the occupied Crimea. Our support, our efforts, our thoughts with them daily. I believe that we will liberate the homeland of the Crimean Tatars from occupation. And how long the path to the return of the Crimea will be, we will pass it along with the Kırymly. We will do it together. Do not forget that even the darkest night ends with the dawn!
- wrote Zelensky, providing the text with a mourning picture.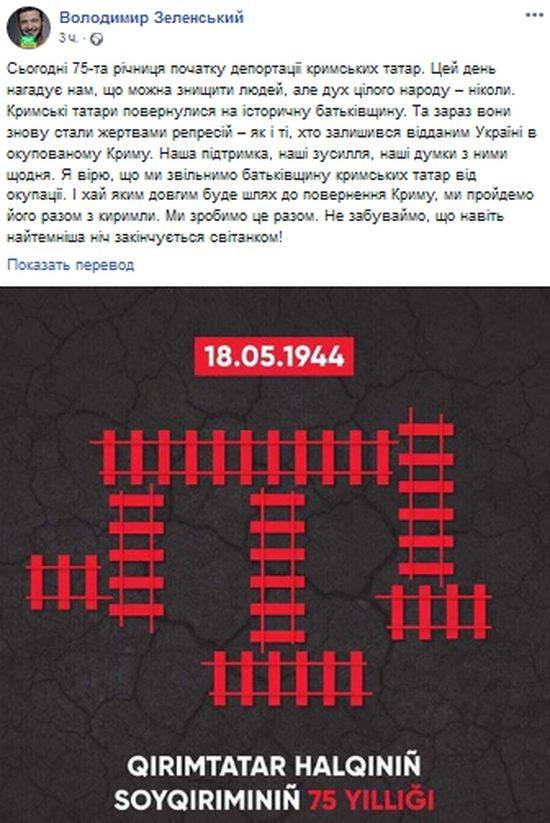 It should be noted that for the first time in Ukraine, the deportation of Crimean Tatars was officially remembered in 2016. Then they made this date memorable. Prior to this, for a quarter of a century of "independence", the Kiev authorities carefully ignored the Crimean Tatars, and even openly violent representatives were subjected to repression.
In turn, in 2014, Russian President Vladimir Putin rehabilitated the Crimean Tatars, as well as Armenians, Germans, Greeks and representatives of other peoples who lived in Crimea and suffered during the deportation. And in the elections held in 2018, the Crimean Tatars unanimously voted for Putin in the presidential elections in Russia. Moreover, the Crimean Tatars permanently residing in Crimea, unlike their fellow tribesmen of the "grant-eaters" and Islamic militants who fled to Ukraine, appealed to the UN with a demand to recognize Crimea as Russian.
It should be reminded that about 250 thousand people living in the Crimea consider themselves Crimean Tatars. And in neighboring, across the sea, Turkey, about 5 million people live there. As for modern Ukraine, the number of Crimean Tatars there is vanishingly small. So you can wish Zelensky patience with Turkey's accession. After all, it is Ankara, at present, that is the homeland for all Crimean Tatar "grant eaters". The main thing is not to tear the navel along the way. After all, more than 82 million people still live in Turkey, and the army of this country is clearly no weaker than the Ukrainian.