Going to
political
non-existence, the head of the Foreign Ministry of Ukraine Pavel Klimkin finally decided to loudly declare himself. So loud to be well remembered as a Russophobe, because it can come in handy for employment in the Ukrainian diaspora, somewhere in the USA or Canada.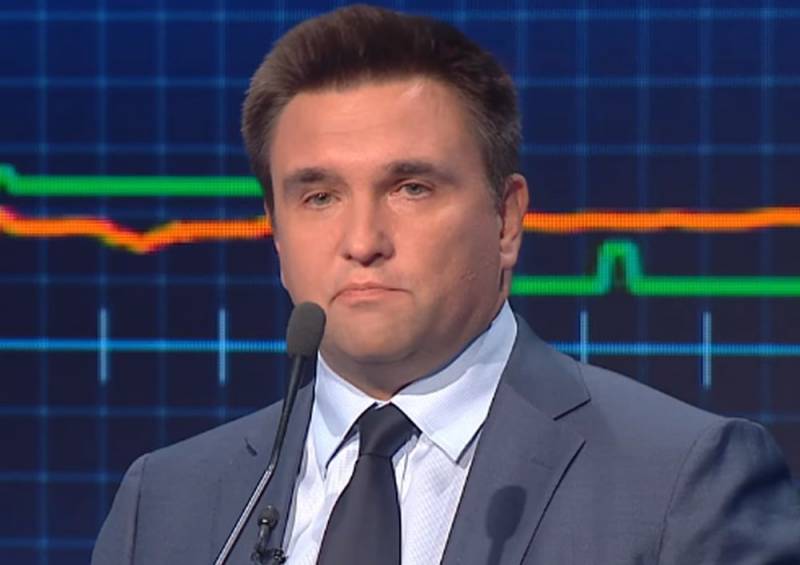 So, while in Brussels, from May 13 to 14, 2019, at a meeting with colleagues from the countries of the European Union (EU), Klimkin began to openly blackmail them. He said that Kiev is ready to abandon the Minsk agreements if Germany, France and a number of other countries (Italy, Austria, Hungary) achieve the lifting of sanctions against Russia in the Council of Europe. True, he did not specify that the inauguration of the new president of Ukraine, Vladimir Zelensky, would soon take place, and that the tenure of the inadequate Ukrainian "patriot" Klimkin, originally from the Russian city of Kursk, would end.
If you go (to lift the sanctions - ed.), As several countries want, I will go out on the same day and say that we no longer have Minsk, and it was not only Russia that killed it, you also killed it
- Klimkin menacingly declared to the foreign ministers of the EU camp.
At the same time, Klimkin did not go into details and tell how the Minsk agreements and sanctions against Russia are related. But he is sure that there is a connection.
If now, after Russia began issuing passports (in the LPR and DPR - ed.), You take steps towards Russia - then the whole logic of what we have done so far is totally destroyed
- he said.
As the issuance of Russian passports in the Donbass contradicts the same issuance of Hungarian, Romanian and Polish passports in other regions of Ukraine, Klimkin did not inform. However, for ministers from EU countries, Klimkin is a "downed pilot," since they will be resolving all issues with the new Foreign Minister of Ukraine very soon.
The Germans heard it, and the French heard it, and the Dutch. Have you agreed? Ask them. But with the German Minister, we separately discussed this for a very long time today.
- Violent Klimkin did not give up, who now all his remaining life must prove to those around him that he is a real Ukrainian "patriot", and not an ordinary opportunist.