The prototype of a promising hybrid aircraft called TriFan 600, developed by the American company XTI Aircraft, successfully passed its first flight tests, which were carried out on May 2-3 of this year. During testing, the aircraft performed several successful take-offs, hovering and landings in unmanned mode.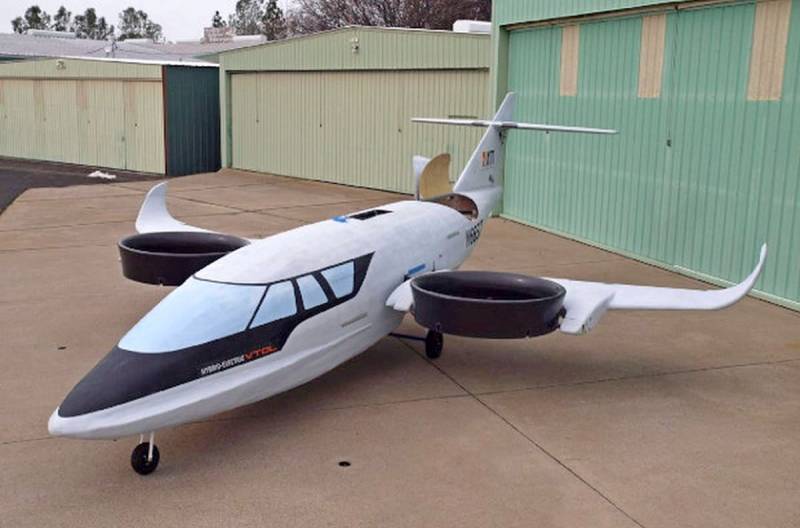 Recall that work on the TriFan 600 has been underway since 2015. The device has the shape of a longitudinal biplane. Its main feature is three propellers designed for vertical take-off and speed gain. Two of them are installed in special protrusions near the wings and one in the tail. The first have a rotary mechanism and when climbing, make a smooth turn by 90 degrees, contributing to the acceleration of the aircraft. As soon as the unit reaches cruising speed, the tail fan will be closed with special shutter doors, which will reduce drag.
According to the developers, their brainchild will be able to cover a distance of more than 2800 km while reaching a flight altitude of 10,7 km and accelerating to 340 knots. The device will be able to take on board 12 passengers, and for vertical takeoff will use helipads or any other terrain with a suitable landscape.
During the first flight tests, the main purpose of which was to check electric motors, batteries, a control system and other on-board equipment, the aircraft model was used on a 65 percent scale. The TriFan 600 prototype was held by ground anchors and successfully completed take-off, hovering and landing. In the following tests, the designers intend to test the horizontal flight of the device.
About when the hybrid aircraft goes into operation, nothing is said. But the American company has already received an order for the supply of 77 devices, the total amount of which will be about 500 million dollars.