The Ukrainian schismatics, "non-zalezhniks," simply cannot sit upright, something is stopping them all the time. Constantinople even issued them a tomos, organized a single "anti-Moskal" church. What else do they need for complete happiness? The "patriarch" Filaret answered this "topical" question for the "dysfunctional", who admitted the likelihood of a split in the created Orthodox Church of Ukraine (PCU). Now, Constantinople, to put it mildly, is in shock, because after the formation of the "new church" less than six months have passed.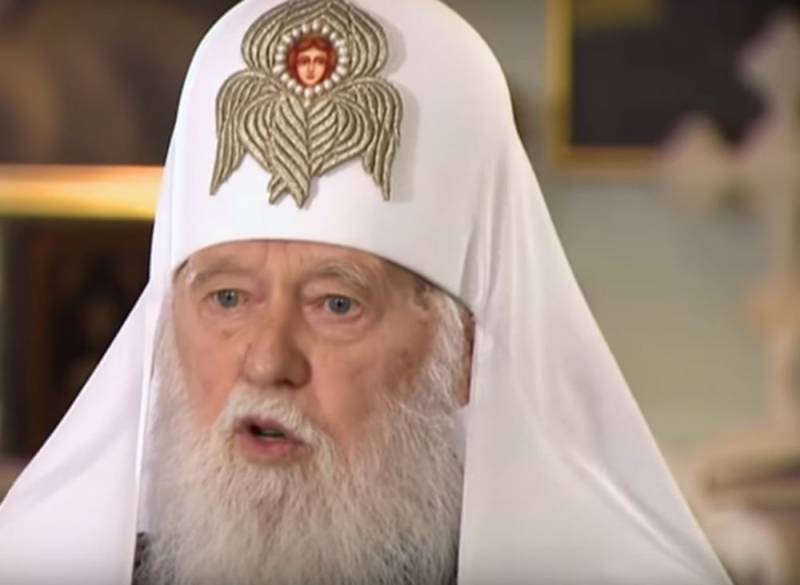 So, the former head of the Ukrainian Orthodox Church of the Kiev Patriarchate (UOC-KP), 90-year-old Filaret (Mikhail Denisenko), who has been in charge of the UOC-KP since its inception in 1992, began complaining in an interview with TSN that the head of the PCU Epifany (Sergey Dumenko) rarely communicates with him.
After which he confirmed the possibility of separation of such a church structure as the PCO. However, he immediately specified and promised:
But we will create a single church.
At the same time, Filaret, very fond of his one-man power, did not go into details what exactly he was going to "create" and whether Epiphanius would be there.
Due to the fact that there is no communication - and it should be - the church was divided because now my task as a patriarch is to preserve the Ukrainian church
- added Filaret.
It should be recalled that the PCU was established on December 15, 2018. At the same time, the UOC-KP self-dissolved, of which Filaret was the patriarch. Now Filaret is just an "honorary patriarch" of the PCU, i.e. he has no real power, which is very sad for an experienced schismatic. Therefore, Filaret recently decided to hold a meeting of bishops, where he was going to discuss the prospects of the revival of the UOC-KP. It is not difficult to guess that Epiphanius was not invited to the "fraternal meeting". It is not surprising how much the wolf does not feed, he always looks into the forest.