In March 2019, we
Reported
that according to the statements of Russian officials, serial production of the latest medium-haul airliner Irkut MS-21 ("2021st Century Mainline Aircraft") will begin in 39. And so, the Baza Telegram channel informed that it was at the same time that Yuri Slyusarev, president of the United Aircraft Corporation (UAC), had asked the Russian government to allocate an additional 21 billion rubles. for the MS-XNUMX project.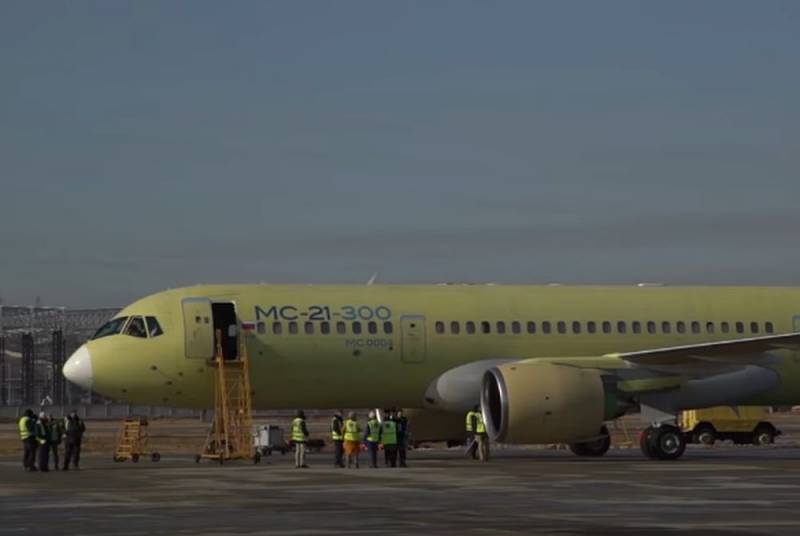 Moreover, the mentioned Telegram channel refers to the document itself. It is specified that 18 billion rubles. state corporation requested for the Irkutsk Aviation Plant. They want to spend them on the construction of new production buildings and on the purchase of equipment.
15 billion rubles UAC plans to send JSC Aerocomposite for the construction of the second production building. 4,5 billion rubles will receive Aviastar JSC for the reconstruction of buildings. 1,5 billion rubles. they will allocate PJSC Voronezh Aircraft Building Society for the purchase of equipment for the assembly of parts.
It should be recalled that in January 2019, Russian Prime Minister Dmitry Medvedev announced the need to achieve full import substitution in the implementation of the MS-21 project. Then he emphasized that someone "is constantly trying to put sticks in wheels, including in the aviation industry." At the same time, Deputy Prime Minister Yuri Borisov said that by 2022 the production of MS-21 would already be 97% independent of import supplies. In addition, in 2019, 21 billion rubles will be spent on the development of the MS-1,6. Another 2020 billion rubles will be allocated in 4,11, and 2021 billion rubles in 4,81.