The accident occurred at the Moscow Sheremetyevo International Airport. The Aeroflot airline plane operating the Moscow - Murmansk flight was forced to return to the point of departure after reporting a fire on board. The aircraft made an emergency landing.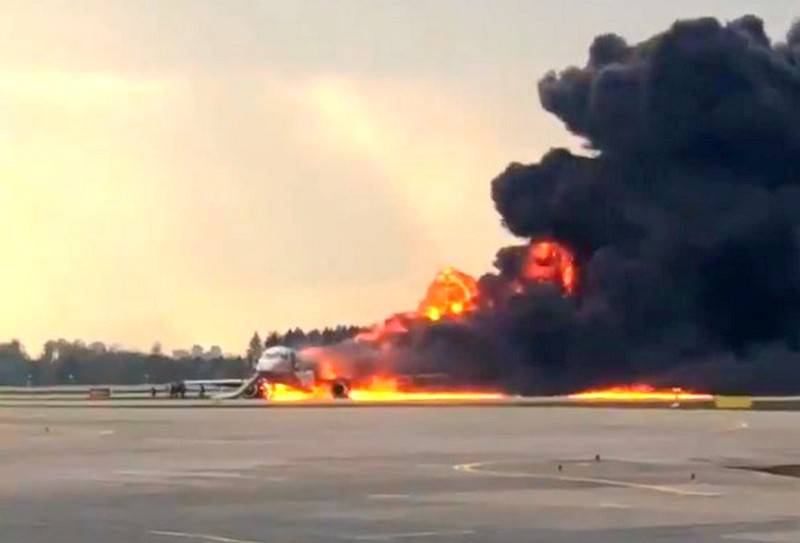 Based on the footage published on the Web, it can be assumed that we are talking about a Sukhoi Superjet 100 domestic production liner. The plane is engulfed in flames almost completely. The machine cannot be restored.
According to emergency services, the flame was able to bring down. In the next few minutes, the fire will be completely eliminated.
There is a fire at Sheremetyevo Airport. The plane is on fire. None of the other aircraft are released. pic.twitter.com/raX0n5VhrO

- Norenko Mikhail (@norenko_mikhail) May 5, 2019
Onboard there were about 70 passengers. According to preliminary data, there are victims - six people received burns of varying degrees. At the same time, the TV channel
REN TV
reports 10 dead
.
The first seconds after landing a burning plane at Sheremetyevo. On a strip run people evacuated from it.

According to preliminary data, 72 people were on board pic.twitter.com/TSu4EOcxAe

- Wild Moscow (@WildWildMoscow) May 5, 2019
According to the agency
TASS
, a fire occurred in the engine of the aircraft. The liner could not land the first time. The second attempt to land led to a tough meeting with the ground, because of which the plane literally "pecked its nose" and caught fire.
Preliminary causes of an emergency are a malfunction of electronic equipment and lightning striking an airplane. The second, by the way, is in great doubt. The last plane crash that occurred due to the lightning caused more than 60 years ago. It is believed that getting into the liner of a powerful electric charge does not pose a threat to it.