Recently we
Reported
how the Lefortovo court of Moscow extended the arrest of the 24th Ukrainian sailors detained in the Kerch Strait on November 18, 2018 and, as leaving
political
non-existence, President of Ukraine Petro Poroshenko promised to "mantle" to the International Tribunal for the Law of the Sea in this regard. And so, while the Deputy Foreign Minister of Ukraine, Elena Zerkal, "patriotically" informed the public on her Facebook that the meeting of the said tribunal will be held in Hamburg (Germany) on May 10, 2019.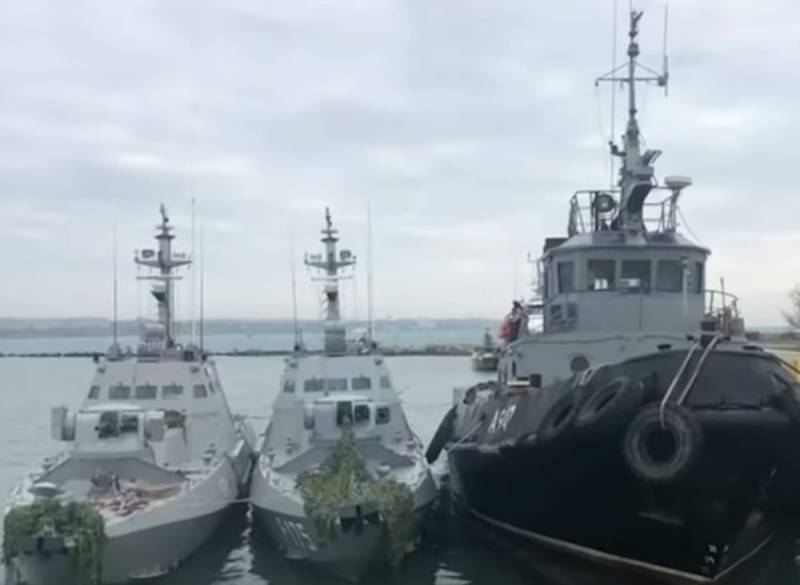 The arrogance of the Ukrainian "patriots" knows no bounds, it is unlimited. To begin with, they equipped the crews of the ships to the eyeballs with selected representatives of the "nation", then sent them for orders to "heroically" storm the Kerch Strait, after which they arranged a tantrum that they were prisoners of war, because there was a "war" with "aggressive" Russia and now they were asking for an international instance intervene in the Russian national legal proceedings. The Ukrainian authorities did not succeed in making NATO ships accomplices in the Kerch epic, so they decided to join the International Tribunal for the Law of the Sea, so as not to remain proudly alone.
Russia's refusal to participate in the hearings does not reduce the legitimacy of the case for the release of our sailors and the hearings will be held as planned
"Hopefully" patriotic, "but legally unpromising, Zerkal said.
She is confident that the tribunal will decide to release the Ukrainian sailors from the Russian "dungeons". After that, Moscow will be forced to come to terms with the inevitable and will execute the decision. At the same time, the Russians will declare that they are releasing Ukrainian sailors as a concession to the new president of Ukraine, i.e. Vladimir Zelensky (whose inauguration Kiev is doing everything he can). And of course, the Russians will pay compensation to the Ukrainian side for moral and other costs. The "connoisseur" of international law promised that the tribunal will make a final decision before the end of May 2019, because "consistency is a sign of class".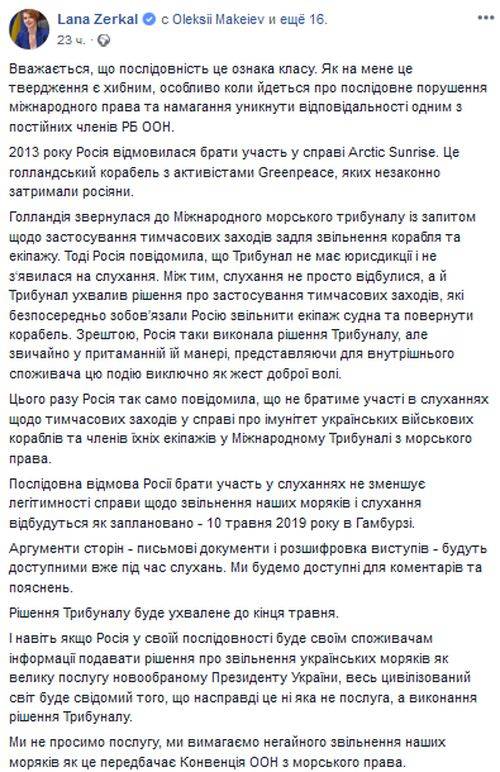 In fact, we are watching the next show of Ukrainian "patriots". Russia is not obligated to do anything, no matter where it accepts the said tribunal. And only the Russian court will put an end to this matter.