Annegret Crump-Carrenbauer, who succeeded Angela Merkel as leader of the Christian Democratic Union (CDU) party, has repeatedly
was expressed
in support of the construction of the Nord Stream -2 gas pipeline. Now she has explained in detail her point of view, as reported by the German daily Bild.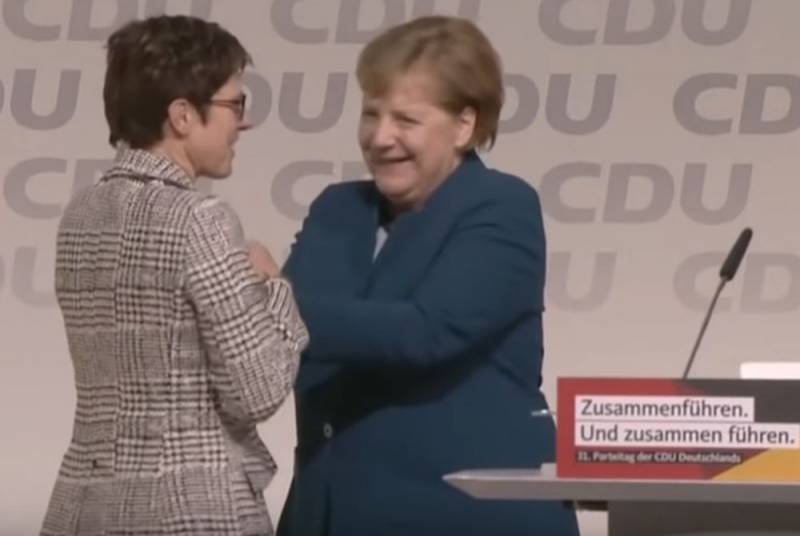 Crump-Karrenbauer believes that natural gas is extremely important for Germany, especially given the problems of energy. Germany is moving from coal to gas and shutting down nuclear power plants. Huge investments have already been made in the project and bringing it to its logical conclusion is important for the business. In addition, transit along the bottom of the Baltic Sea is much cheaper than using the territory of Ukraine or other countries. And it doesn't matter that someone is very concerned about this matter - no one has yet canceled the competition.
It doesn't matter if this is our top priority now or not - we support this project
- stressed Kramp-Karrenbauer.
And this is without options, which means that the gas pipeline will be completed, and it does not matter, on time or six months later.
Of course, the CDU leader did not pass by the concerns of some individuals and entire countries as yet. She noted the Russophobia nervousness from Kiev and Warsaw. At the same time, Washington completely ignored it.
Kramp-Karrenbauer is well aware that for Ukraine the transit of Russian gas was a kind of "insurance". After all, gas went to Germany and other European countries, therefore, the Kiev authorities, comfortably sitting on the "pipe", regularly blackmailed Moscow, not being afraid of the consequences. Russia, in turn, could not influence Ukraine for obvious reasons. At the same time, the CDU leader once again recalled how German Chancellor Angela Merkel "is diligently fighting for security guarantees to be spelled out for Ukraine".
It should be noted that not everyone in the CDU shares the point of view of Merkel and Kramp-Karrenbauer, although there are an overwhelming majority of sane ones like them. But there are pro-American activists running from party to party. For example, like Manfred Weber, who is already in Washington
have been named
the future head of the European Commission (EC) - the government of the European Union (EU). And he had already promised that as soon as he became the "boss," he would immediately shut off the "oxygen" to the Nord Stream-2 gas pipeline.
For clarity, it should be added that various "philanthropists" like George Soros "grow up" in various foundations and grant-giving structures such as Weber. This is an American investment in the local fifth column, which in every way harms the development of the EU.
By the way, Crump-Karrenbauer has already stated that the simultaneous participation of Merkel and Weber in the European elections is not a problem. And rightly so, competition must be present here too.