On April 21, 2019, Ukraine hosted the second round of the presidential election. After counting 100% of the protocols, as expected, showman Vladimir Zelensky won a landslide victory, he won 73% of the vote, and his opponent, the current "guarantor" Petro Poroshenko, who became a "downed pilot" - 25% of the vote.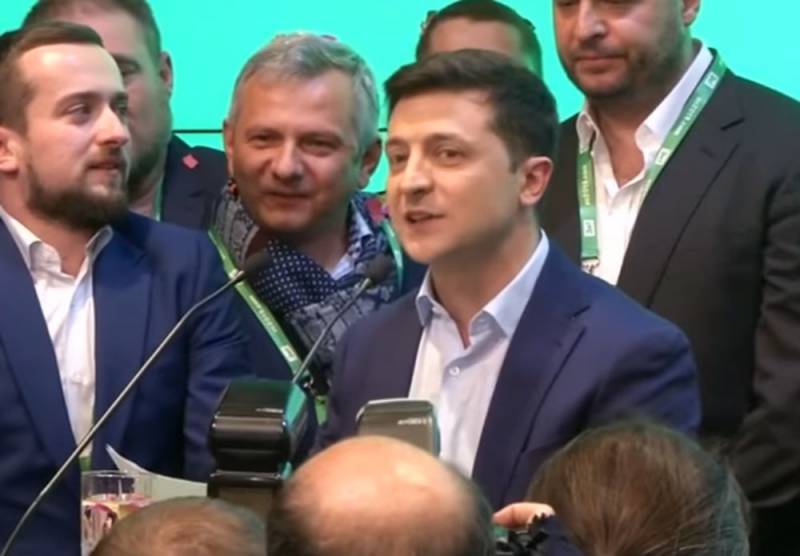 Winner already
did
a series of statements, it is clear from them that Zelensky will move along carefully placed flags, both in external and internal
policy
. So fundamental changes in Ukraine are not expected. Zelensky's headquarters has already identified "red lines" for the future head of state.
For example, a representative of the headquarters Dmitry Razumkov on the 112 Ukraine television channel said:
We have two red lines: we are not ready to give, lease for short or long term, to give Ukrainian lands and Ukrainian citizens for use.
At the same time, Razumkov did not specify whether he considers the residents of Donbass fired on daily basis by the Ukrainian Armed Forces as citizens of Ukraine. As well as the inhabitants of the Crimea, which turned off the water and are doing all kinds of harm during the last five years.
But Razumkov said that the Crimea and the Donbass, under Zelensky, will be considered part of Ukraine, and not as humiliating as under Poroshenko - "temporarily occupied territories". What is the actual difference, he did not report. Although Poroshenko still calls the Crimea and the Donbass part of Ukraine, but this does not prevent him from shooting at one and in every way complicate the life of others.
It should be noted that Zelensky's headquarters has not yet reached the issues of gas transit and Nord Stream -2, the Strait of Kerch and problems with religious tolerance in Ukraine. So we still have a lot to hear from a friend after the inauguration.
At the same time, Moscow retains significant silence regarding the official recognition of the results of the past elections. But there is a high probability that he admits that he's not going anywhere, you'll see for yourself. Since Moscow is used to dealing with oligarchs and officials. And if
recognized
in 2014, "one-round" Poroshenko, the non-recognition in 2019 of Zelensky will look illogical. With whom then to talk, with the people of Ukraine?
It should be added that in the Verkhovna Rada of Ukraine Zelensky is really afraid. He is not a nationalist, but simply forced to "filter" everything he says in every way so as not to become a premature victim (in the truest sense of the word). That is why the ruling elite wants to strip Zelensky of his powers, since they really do not know what to expect from him. Everyone perfectly understands this at Zelensky's headquarters, and therefore they are talking frank nonsense resembling Poroshenko's rhetoric.