Russian designers from Kamov JSC completed work on a preliminary design of a synchrocopter - a promising passenger helicopter that can reach speeds of over 400 km / h. It is worth noting that the creation of an apparatus of this class was announced by the Ministry of Defense at the beginning of last year.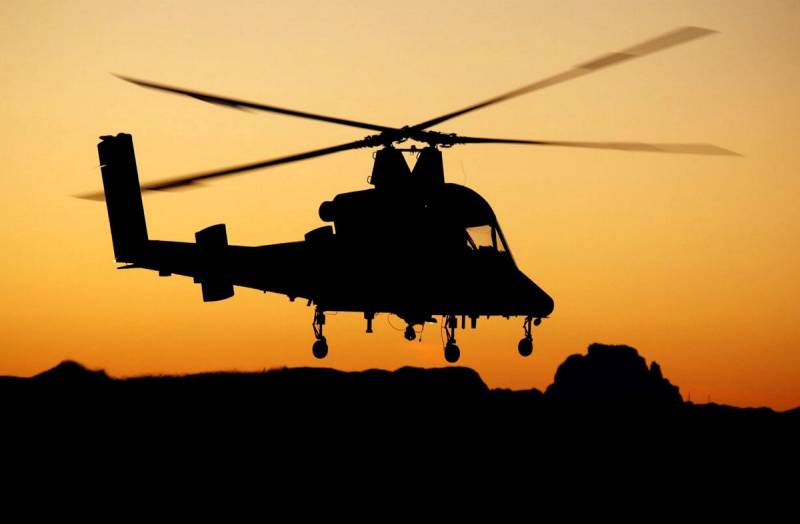 The main difference between a synchrocopter and a conventional helicopter is the pair design of screws rotating in the opposite direction. In this case, the bushings are at a minimum distance, the axis of rotation of the shafts are at an angle to each other, and the plane of rotation intersect. In order to prevent the collision of the blades during the flight, their rotation is mechanically synchronized, which, in fact, is reflected in the name of the device.
The take-off weight of the Russian synchrocopter is 6,5 tons, and the payload of the device is 1 ton. A promising helicopter is capable of cruising speeds of up to 357 km / h and a maximum speed of 420 km / h. The ceiling is 4,7 km and the maximum height is 5,6 km. At the same time, the car is capable of covering a distance of up to 1228 km.
Among other things, a pushing screw was installed in the tail of the device. The wingtips were given a special shape, while reducing their rotation speed from 220 to 180 m / s.
The main advantage of a pair, synchronized design is that with such a scheme there is no disruption of the air flow from the blades. And this, in turn, allows you to increase the speed limit.