London continues to play on the nerves of Moscow, actively signaling something. It's not in vain, over the past four months, the British Navy's HMS Echo reconnaissance ship has crawled into the Black Sea for the second time.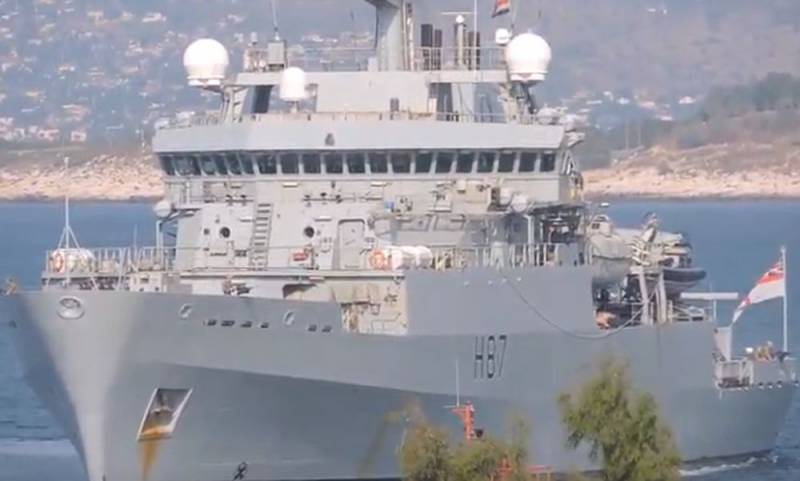 The next "coming" should symbolize the unity of Great Britain with Ukraine in the face of the "aggression" of Russia. Marine monitoring resources have already confirmed the fact that the scout passed through the Bosphorus. So according to the Montreux doctrine, he has 21 days to leave the Black Sea and the Bosphorus and Dardanelles.
It's amazing that the Secretary of Defense of the Misty Albion Gavin Williamson has not yet made a speech, who takes the slightest opportunity to tell how he hates Russia. Although there's still time,
recently
he wrote about the helicopters sent to Estonia, the whole speech, all that was needed was an armored car and a cap.
As for the HMS Echo (H87), this is a multi-purpose hydrographic ship named after the ancient nymph Echo, built in 2002. It can be used for survey work, search for submarines, landing operations and as a platform for mine sweeping. That is, it is a very useful unstressed ship. He is armed with a 20 mm cannon. and a 7,62 mm machine gun. Its crew is 72 people.
Given the previous visit to the Black Sea by this ship, there is a high probability that he will again go to Odessa. At the same time, Ukrainian officials will arrange the traditional "pilgrimage", not forgetting to emphasize and demonstrate their Euro-Atlantic orientation.