The symbol of France and Paris, Notre Dame Cathedral, was extinguished by great efforts of firefighters in the morning of April 16. This was reported to the press by a representative of the French fire brigade Lt. Col. Gabriel Plus.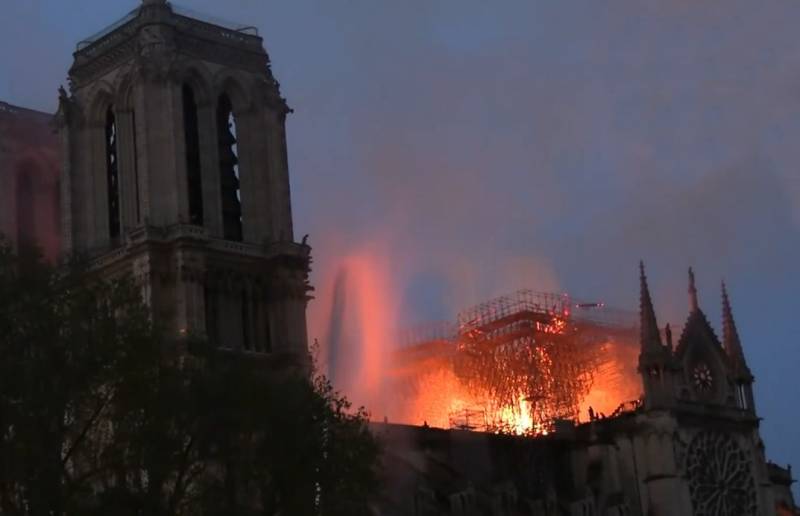 Recall that a terrible fire, which caused tremendous damage to the old building, began on April 15 at about 18:30. We are in detail
wrote
about this incident. The fire that engulfed the cathedral destroyed its spire, clock and two-thirds of the roof. Thousands of Frenchmen and guests of the capital watched with tears in their eyes as the famous Notre Dame consumed the flames.
The whole world watched with a shudder as a real drama unfolds in the center of the French capital. An architectural monument of world significance could have been burned to the ground, if not for the maximum effort that the French firefighters made. Even the American president, Donald Trump, could not help but respond to this by posting on his Twitter tip to put out the fire using helicopter water tanks.
French President Emmanuel Macron promises that Notre Dame Cathedral will be restored. Indeed, for the country it has a symbolic meaning.
Notre Dame is our history, our literature, our imagination. The place where we experienced all our significant moments - epidemics, wars, our liberation. This is the epicenter of our life,
- said Macron.
But experts estimate the terms of restoration of the cathedral at least 5-10 years, or even more. It will take tremendous amounts to ensure that Notre Dame regains its semblance of its former form. Therefore, fundraising for the restoration of the cathedral has already begun - they are using budget money, and the help of sponsors, and donations from ordinary people.