Gazprom's plans to bypass Ukrainian transit were hit again. If recently the main efforts of the USA and its allies in Europe have been directed against Nord Stream-2, now Washington's attention has shifted to the southern direction. The United States supported the construction of the EastMed gas pipeline, which should compete with Turkish Stream.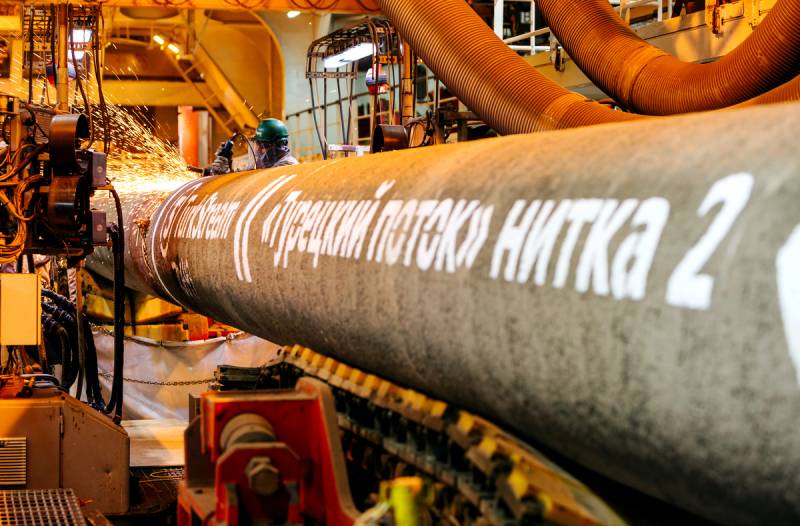 The idea of ​​the world's longest submarine pipeline going from Israel to Southern Europe has been actively discussed since 2011. The main project interests are Israel, Cyprus, Greece and Italy. The parties do not hide the fact that their goal is to "ensure energy security" of the European South from Russia and Turkish transit. A preliminary agreement on the construction of the gas pipeline was concluded in November last year.
In figures, the alternative to Turkish Stream looks like this: 2200 kilometers of pipe, its capacity is estimated at about 10 billion cubic meters of gas per year, the cost of sales is about $ 7 billion. The gas pipeline can begin to work by 2024-2025. So Gazprom's business is bad?
However, there are several arguments against such a project:
At first
, the pipeline can flow at a very great depth, which in some places reaches 3 kilometers, in the seismically active zone of Cyprus.
Secondly
, the cost of gas produced on the shelf is quite high, while the cost of building such a large-scale pipeline is high.
Thirdly
EastMed defiantly ignores the interests of Turkey, but Ankara has the most serious lever of pressure on the situation in transit Cyprus, where the unrecognized Turkish Republic of Northern Cyprus exists. In addition, Turkey believes that the Mediterranean shelf is divided unfairly. It must be borne in mind that Ankara has a powerful navy and is striving to prove its own sovereignty in front of its NATO partners.
All these considerations for a long time allowed us to hope that the project would remain out of the category of possible, but not implemented. Moreover, Italy has ceased to show a clear interest in him.
But two things happened. Off the coast of Cyprus was discovered another gas field called Glaucus. And the United States defiantly supported the project of an alternative to the Turkish Stream gas pipeline. State Department head Mike Pompeo attended the summit in Jerusalem, where EastMed was discussed by Greece, Cyprus and Israel, but without Italy.
Washington's support is changing everything, as it provides US patronage and protection from Turkey's hostile actions in the Mediterranean. Thus, Donald not only creates direct competition to the Turkish Stream in Southern Europe, but also clicks on the nose of President Erdogan, who is too "played with" independence from Uncle Sam.