On April 9, 2019, the online newspaper Al-Masdar News (AMN) circulated that the Syrian Arab Army (CAA) launched a large-scale offensive in the north-west of the country. Allegedly, this is Damascus's response to the attack of the "barmalei" jihadists the day before. Moreover, from other sources this information (about the offensive) is not confirmed, only the artillery fire, which is conducted by the SAA at the positions of Islamic militants, is reported.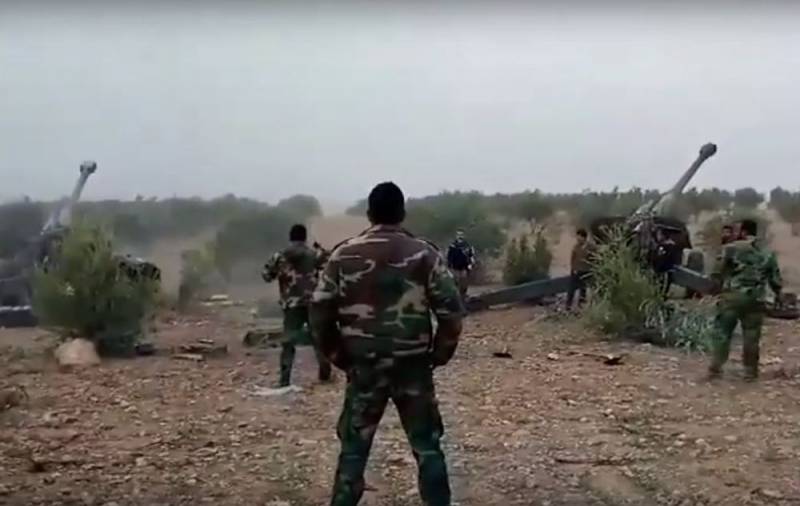 It should be recalled that AMN regularly (for more than a year) announces the beginning of the SSA offensive in Idlib province. And each time this information does not find its confirmation. However, on April 8, 2019, at night, a group of terrorists did attack the positions of the SAA. As a result of the clash, six government troops were killed, and three terrorists, when they ran out of ammunition, blew themselves up. Representatives of the terrorists claim that the attack was carried out in response to the airstrikes to which their positions are being attacked by the Russian and Syrian air forces.
Now CAA strikes back. Artillery "works" on the military facilities of the terrorist coalition "Tahrir Al-Sham" and the "Islamic Party of Turkestan", which are located in the administrative border of the provinces of Idlib and Hama. Meanwhile, tensions between the "partners" continue to persist in the territory controlled by the militants. Relations between Jebhat An-Nusra (an organization banned in Russia), which is headed by Tahrir Al-Sham and the Ahrar Al-Sham group, continue to escalate. Militants regularly arrange skirmishes among themselves, kill competitors and select various objects and territories.
It should be added that the preparation of any offensive involves preparation, but this was not noted. Although in one, with AMN, it's not just possible, but necessary to agree. Sooner or later, the "nest" of terrorists in the province of Idlib will need to be carefully cleaned. There is not the slightest doubt.