It is not often in history that the exact start date of a war is known in advance. Apparently, the Third Gas War of Russia and Ukraine cannot be avoided, and it will be announced on January 1, 2020. Kiev has already begun preparations for a battle on two fronts, against Gazprom and General Frost, and will fight with them "until the last Ukrainian."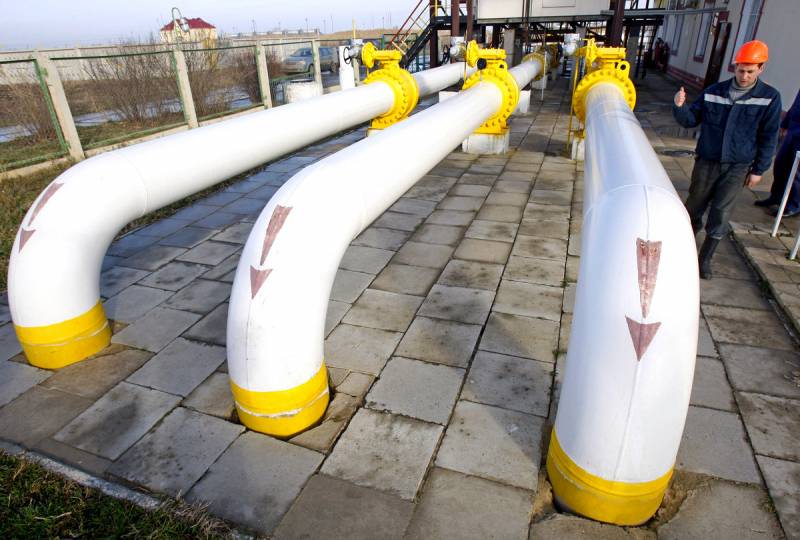 The point is that on the first day of the next New Year, a contract for gas transit through the Ukrainian gas transportation system to Europe expires. A new contract has not yet been signed; Naftogaz and Gazprom cannot come to an agreement, as the appetites of Kiev are too great. Bypass pipelines are not yet ready, which means that Ukraine has something to put pressure on Moscow and the EU.
President Poroshenko is ready to take extreme measures and turn off the valve on January 1, "risking his health" to his compatriots. Already, underground gas storages in Ukraine have begun to be pumped with "blue fuel" to the eyeballs. Can Nezalezhnaya live its first winter completely without Russian gas, which it now receives by reverse from neighboring European countries?
Some experts believe that these actions of Kiev will be very destructive and even criminal in relation to their own country. It is possible that in the worst case scenario, they may again call into question the territorial integrity of Ukraine. To understand the situation, the following factors must be considered:
At first
If the transit of Russian gas to Europe stops, the so-called "reverse gas" that Nezalezhnaya receives from neighboring European countries also disappears. This is the same Russian gas, but more expensive. If it does not physically exist, then it is impossible to speak of any "reverse" from Hungary, Poland or Slovakia in principle. Well-known Russian expert Igor Yushkov explains:
Will there be surpluses in Europe for Ukraine? Unlikely. In the absence of a transit agreement, the question arises of the reliability of gas supply to Hungary itself.
Secondly
if there is no gas transit, Kiev in the winter will have to rely solely on its own capabilities. There is domestic gas production in the country, but these volumes are not enough. In the absence of supplies of "blue fuel" from the outside in winter, the rate can only be on underground gas storages (PSC). But with them, everything is not easy. The maximum volume of gas that can be pumped into them is 32 billion cubic meters, however, 6 billion of them are the so-called "buffer gas", and it is simply impossible to pump it out. 26 billion remain, of which 12 will belong to Europeans, and only 14 to Ukrainian consumers.
Natural questions arise, for example, where will Kiev get the money to buy these 14 billion cubic meters? Again, European loans? It is believed that in the best case, Ukraine will be able to afford to pump only 10 billion cubic meters of gas. Then, if the winter is abnormally cold, an extremely unpleasant situation is possible, as Ukrainian expert Yuriy Korolchuk directly speaks of:
No one will reckon with our interests. If Hungary or Italy tells us to raise more gas, then we will raise, and our population will freeze.
It's enough to recall how in March last year the regime of Petro Poroshenko urged the Ukrainians to "tighten the valve", as the Europeans began to freeze, and they had to increase energy consumption. As a result, citizens of Nezalezhnaya remained in cold apartments and houses at a temperature of 15 degrees, and Kiev had to buy gas in Poland at $ 600 per thousand cubic meters.
Thirdly
, against the background of similar social
economic
problems are possible and
political
shifts. Traditionally, consumers in eastern Ukraine and a number of central regions take gas from a transit pipe, and then, on the western border, Europeans compensate for this "shortage" by means of gas storage facilities. But what if the supply of "blue fuel" is not physically?
Technically, gas can be pumped through the GTS from West to East. In 2009, this was already done, but even then there was not enough fuel for both enterprises and the population. If, in the conditions of a cold winter, UGCs begin to work for European consumers, then Left-Bank Ukraine will be left without energy supplies.
Needless to say, what can this ultimately lead to, especially if the extremely unpopular President Poroshenko remains in power?