Recently we
Reported
, like the troops of the parliament, represented by the Libyan National Army (LNA) under the direction of Field Marshal Khalifa Haftar, they blocked off the land of Tripoli, where a government of national salvation (PNS), led by Islamists and supported by the UN, was entrenched. Now, the PNS, aware of the imminent imminent collapse, is feverishly looking for ways out of this situation.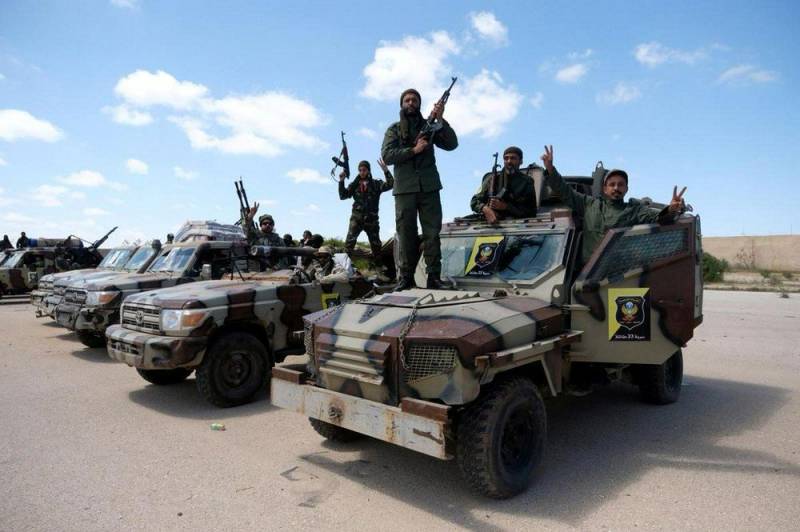 Therefore, it is not surprising that the head of the PNS foreign affairs department, Abd al-Hadi al-Khuweiz, reported
RIA News
that the PNS turned to Moscow to assist the reconciliation process between the parties to the conflict. The PNS expressed the hope that with Libya it will turn out exactly the same as with Syria in Sochi. That is, Russia will become the negotiation platform for the warring parties.
Translated from the language of diplomacy, this means that the PNS is asking Moscow to urgently intervene in the situation, put pressure on Haftar and stop his attack on Tripoli. For this, the Islamists promise to be obedient for some time and perhaps remember how much Russia invested in Libya during the time of "totalitarianism".
Russia is a key state. We wish, we urge her to patronize the project of national reconciliation, just as she patronized Sochi on the Syrian crisis. We hope that there will be a "Libyan Sochi"
Al-Houweij stated.
Russia has no colonial past. We welcome the role of Russia. Russia has good relations with all parties. We believe that Russia and the African Union can play a role in this conflict.
- he stressed.
It should be noted that on April 8, 2019, the press secretary of the President of Russia Dmitry Peskov said that Moscow calls on all parties to the conflict in Libya to refrain from actions that could lead to bloodshed. After that, the PNS immediately remembered Russia. After all, the "carts" (pickups with heavy machine guns) Haftara already 12 kilometers from the capital. Prior to that, Tripoli did not even think about it. Do you know why? The PNS considers the Muslim Brotherhood movement (an organization recognized as terrorist in Russia, Egypt and a number of other countries) as its best friends. Therefore, it is not surprising that Egypt supplies Haftar with everything necessary. Moreover, half of the pilots of the LNA Air Force are Egyptians who hate Islamists fiercely. Therefore, Cairo is useless to ask to stop Haftar.
It should be recalled that the second civil war in Libya began in May 2014. The country was divided into two parts. In the western part of the country, the parliament led, which moved to the city of Tobruk, and the east of the country from Tripoli was led by the PNS. On the territory of Libya there is also a "free" city of Misurata, territories controlled by the "Islamic State" (an organization banned in Russia) and large enclaves controlled by the Berbers and Tuaregs. And all this, Haftar is going to unite again in one state.