April 4, 2019 on the talk show "Evening with Vladimir Solovyov" on the Russia-1 TV channel, questions were raised about the extermination of Jews in Poland during the Second World War and restitution in favor of the heirs of the injured Jews. The studio was attended by Polish political scientist Jakub Koreyba, who tried to justify the genocide, saying that this is an internal affair of Poland and Warsaw owes nothing to anyone. After that, the discussion in the studio went beyond the bounds of decency and morality, and the presenter drove the Pole out of the studio.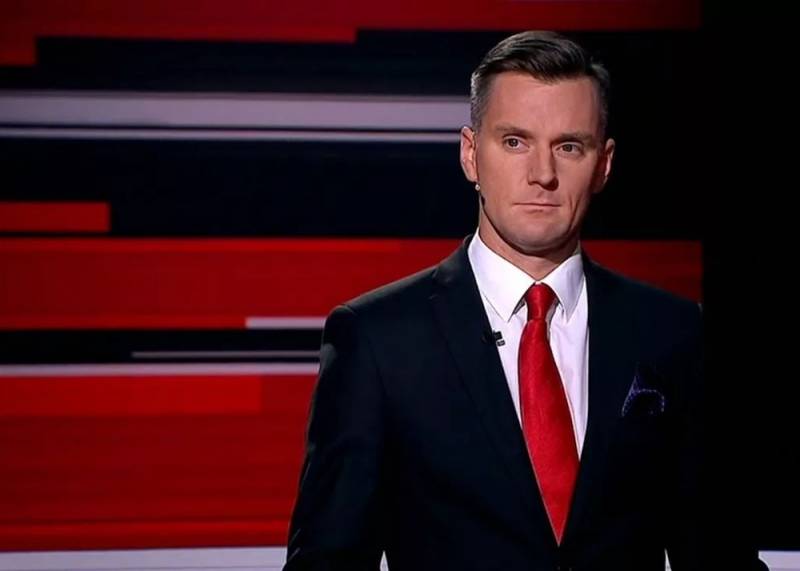 It should be noted that Koleiba tried to blame everything that was happening in Poland, at that time, on the Nazis of the Third Reich. Then he added that now there are a lot of crooks who impersonate the descendants of the victims.
Are you sitting here little knee and through the lip, to me, a Jew, telling about the Jews who were annihilated and saying that we are disgusting chauvinists? ... did you say everything? And now I went out of here, until I took you by the nose and brought you out of here. He got up and went out! Because otherwise I will not be able to restrain Satanovsky and Sosnovsky from not tearing you here! Because the majority of Jews in Poland were killed not by German Nazis, but by Poles!
- said Solovyov.
However, Koreyba refused to leave the studio and continued to deny the fact of the genocide of the Jews by the Poles, calling it "a lie." After that, the host called the guard and asked the strong guys to take the guest out of the studio right on the chair, and then throw out the chair so that none of the decent guests would get dirty in the future.
The show really succeeded, and Koreyba was really wrong. Moreover, the Poles carried out the genocide of Jews after the Second World War, but they are already trying to keep silent about it, since at that time Poland was part of the Soviet bloc. At the same time, Warsaw, in recent years, in a hysterical form has been trying to demand some compensation for itself from Moscow and Berlin.
However, the anti-Semitic views of the Polish political scientist were known long before this broadcast, however, like the views of other guests, who, at one time, were expelled directly from the studio with scandals, however, for other reasons. The question is, what did all this radical audience do on the Rossiya-1 TV channel, which exists on budget money? We sincerely hope that now the approach to guests in the studio will be more selective.