At 2:00 a.m. on April 4, 2019, another car accidentally exploded in the capital of Ukraine, Kiev. This happened in the parking lot at the Auchan supermarket on Williams Street. But, as one well-known Ukrainian "patriot" Yuriy Butusov (chief editor of the "Censor.net" portal banned in Russia) reported on his Facebook, he saw Moscow's hand in this.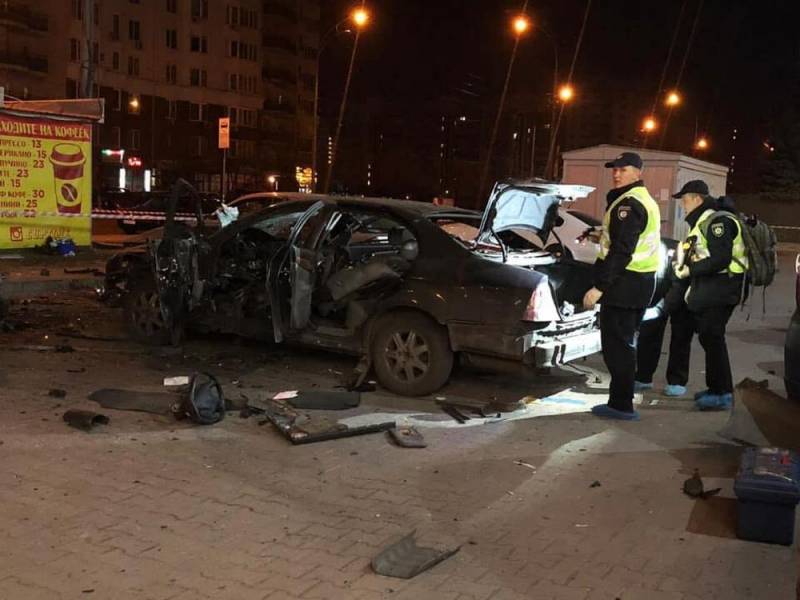 The war with Russia continues, the front goes even here in the capital
- He wrote.
According to Russophobe, the explosion was the result of sabotage, as a result of which the criminal himself suffered. He is seriously injured and detained at the crime scene. It is known that the demoman lost his arm and was hospitalized. He is a citizen of one of the countries of Central Asia. He is reliably guarded. An investigation is underway.
Butusov said that the Chevrolet Epic car of one of the Ukrainian intelligence officers was blown up. It is emphasized that he took part in the ATO in the Donbass, or as it is now commonly called, DUS (Combined Forces Operations).
Butusov informed that the Ukrainian officer was not injured. The explosion occurred when an attempt was made to install a makeshift explosive device (IED) under a car.
Obviously, the enemy was monitoring the machine, most likely acting as part of a group
- suggested Butusov.
After which he added that this was not the first case of a car being blown up by unknown persons in the capital of the "nation". But the first time that they managed to detain the criminal. Butusov hopes that the criminal will be able to talk and then he will shed light on other similar cases, of which there have been a lot in recent years.
It should be noted that Butusov is frank and unproven nonsense about Russia. SBU and other Ukrainian armed structures regularly sort out relations between themselves by similar methods. And one should not forget about crime detection, especially in the light of the second round of the presidential election.
After some time, all Ukrainian officials will have to demonstrate their zeal, zeal, "patriotism" and performance. So the special services could easily send a migrant to put what was needed under the car, and then undermine when the "saboteur" is in place. Moreover, the owner of the car (an employee of the GUR of the Ministry of Defense of Ukraine) could organize this special operation. Having sacrificed a car, he becomes an untouchable and necessary employee. And such a version seems more plausible, at least more logical than the "hand of Moscow".