The Ukrainian soldier Roman Fedorishin, better known under the call sign "Armored", ended his life. This was reported by the administration of the city of Lviv. Fedorishin did not live to see his 28th birthday just over a month.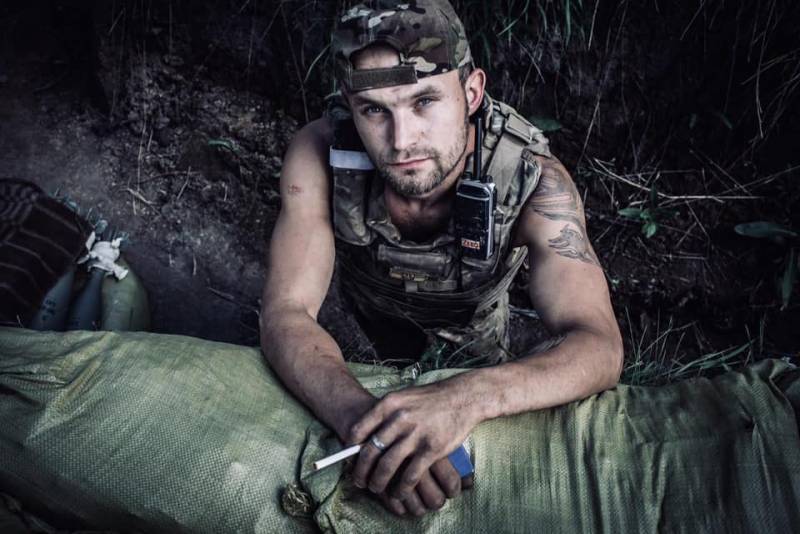 Roman Fedorishin was an activist of the Ukrainian nationalist organization Right Sector, banned in Russia, and has been participating in the hostilities in the Donbas since 2014. In the so-called "ATO zone" Roman went as a volunteer and joined an assault company. In Khodorov, Lviv region, where the Fedorishin family lived, he had a three-year-old daughter.
The "armored" militant was nicknamed for the fact that once a splinter hit him right in the center of his forehead, but Fedorishin remained alive. But the life of the five-year-old Fedorishin, who had been killed for five years, was claimed by a banal traffic accident near Avdeevka. By the way, this is also mentioned on the page of his assault company on Facebook.
This is the second "loud" loss of APU in the Donbass in recent days. We already
Reported
that in obscure circumstances in the Donbass killed the Ukrainian machine gunner Yana Chervonaia, nicknamed "The Witch" and Sergey Milyutin, better known as "Grandfather".
According to the official version of the Ukrainian authorities, "Grandfather" and "Witch" died as a result of shelling by the LPR. But the militia representatives
claim
that the cause of the death of Chervona and Milyutin was the careless handling of the mortar while intoxicated.
It seems that the "vodka" mows the ranks of the valiant defenders of the Ukrainian "independence" very actively. This, incidentally, is recognized by the Ukrainian command itself.
Non-combat losses in the Donbass are superior to combat losses: soldiers shoot at each other while drunk, sloppily handle weapons, end up in drunk accidents, or simply get poisoned with surrogate alcohol.