Currently, the demand for electric cars in Russia is piecewise due to their high cost and attendant difficulties. In 2018, only 144 new electric cars were sold in Russia (sales growth of 51,6%). But already in the coming years (2019-2022), everything can begin to change, because the ownership (maintenance and refueling) of electric vehicles in Europe, in a number of segments (crossovers and "golf class"), can be significantly reduced and can be compared with cars that have the usual engines internal combustion engine (ICE).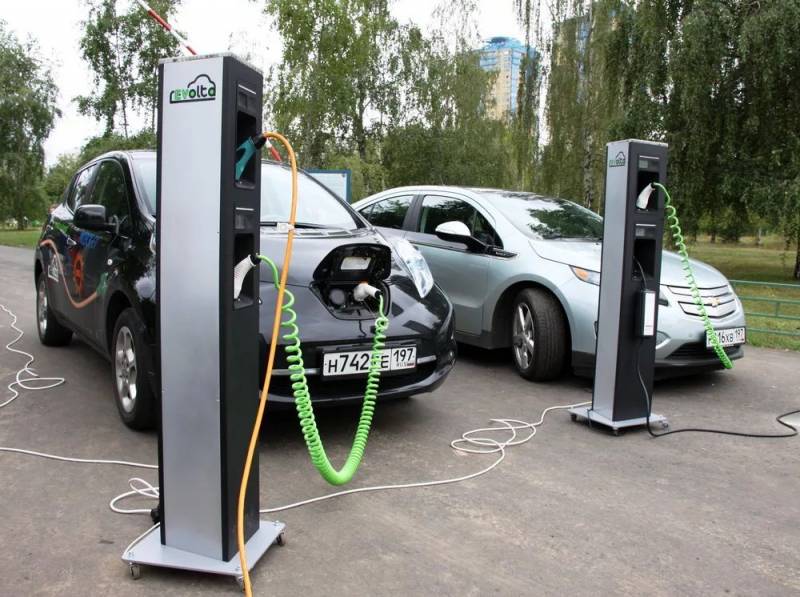 This information is transmitted.
Kommersant
referring to a study by The Boston Consulting Group (BCG). Experts immediately clarified that the above calculations do not include the cost of buying an electric car. Therefore, even if localization of the production of electric vehicles in Russia is organized now, this will not lead to significant demand, since the accompanying infrastructure is practically not developed. But BCG positively assessed the ratio of the cost of hydrocarbon fuel and electricity in Russia.
BCG experts note that now in Russia there are about 2,5 charging stations for 1 thousand electric vehicles (as of July 2018, 170). This amount is extremely small. After all, this is only 0,068 stations per car. Moreover, the payback period of each station is up to 7,5 years.
BCG experts believe that the charging infrastructure in Russia, at the initial stage, should be developed at the expense of state support. As an example, they cite the practice in the West, where, due to state support of this market segment, electric vehicle manufacturers themselves began to willingly invest in the development of a network of charging stations in order to further increase the demand for their products. In general, the BCG suggests that the share of electric vehicles in the total number of all cars sold in Russia in 2020 will be 1–1,5%, i.e. 15-25 thousand pieces.
At the same time, the Russian government for the period until 2025 wants to increase this figure to 4–5%, i.e. up to 85-100 thousand units. Although the Minister of Industry and Trade of Russia Denis Manturov recently said that in Russia in the near future there is no expectation of massive demand for electric cars. That is why, for the development of this market, a zero duty was introduced on the import of electric vehicles. And before that, in Russia they started talking about the introduction of green car numbers for electric vehicles to emphasize their environmental friendliness and make them more popular.