Russian businessman German Sterligov, known for eccentricity and shocking, announced the opening of the Birch store for the poor. There you can even buy natural bread at a price of 440 rubles. Sterligov wrote about this on his Instagram page on March 30, 2019.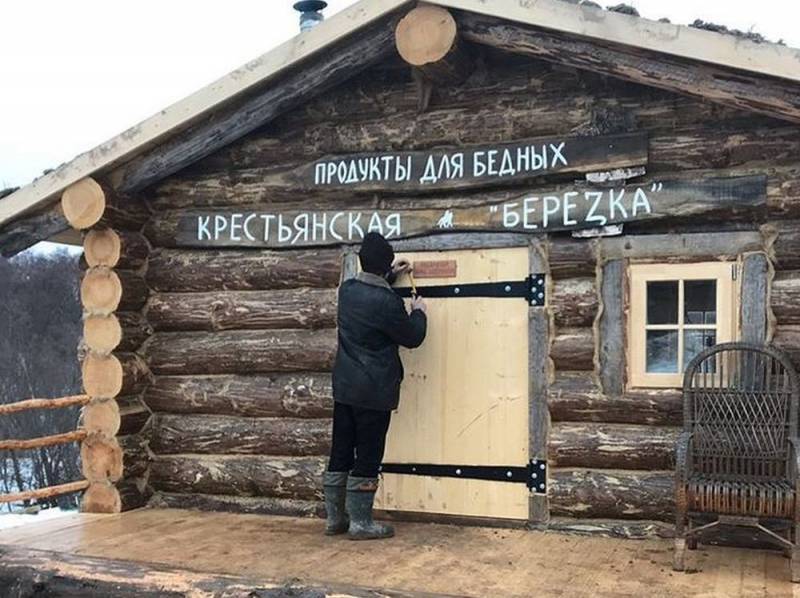 It should be recalled that Sterligov calls himself a convinced Orthodox (Greek Old Church) patriotic monarchist who is not involved
policies
. At the same time, he does not hide that he would like to become the leader of an ethnically and religiously homogeneous Russia, for the sake of which he even proposed at the time to reduce the territory of the modern Russian Federation and to conduct a radical change in the country's political course.
My dear poor people! My good children made a store for you, where all natural peasant products are almost two times cheaper than in our stores in Moscow. You can imagine where your money actually goes, which you would seem to pay peasants - the lion's share goes to predatory rents, fines, invented by confused reporting, false certifications and other crap, that is, to the layer of parasites. They are not visible behind our peasant backs. We in Moscow receive a small part of the price for our products and all the vilifications and indignation for the high cost. And in this new forest shop prices are only for our labor and for raw materials and everything turns out much cheaper. Here is an example for comparison: natural bread in Moscow is 950, and the same bread in our store for the poor is 440. Is that normal? Without parasites, as you see, it's much cheaper. So eat on health. All honestly: for the rich - Moscow, for the poor - Sloboda. So the children invented and made. Give thanks to them. It is no coincidence that we called this shop "Birch". The older generation remembers what it is). The rules are about the same as in the "birches" 40 years ago. Everything is cheap and super, but ... there is one thing but. "Birch", in a word. See you tomorrow at the grand opening at noon. Map how to get to Sloboda and the dress code on sterligoff.ru. Come and joyfully pack all natural for ridiculous, by Moscow standards, prices. German Sterligov (father of good children)
- He wrote.
Naturally, readers, journalists, and social activists, who had all kinds of questions to Sterligov, drew attention to this appeal. For example, they were worried about the price of bread, which they called unreasonably high. To this Sterligov explained that 440 rubles. it's not a usual loaf, but a whole kilogram of real bread. However, when the entrepreneur ended his arguments, after regular questions to him, he turned to overt insults.
I read that they write angry ungrateful dogs about our new store for the poor with bread for 440 rubles. and how indignant and sputter. And they squeal that they buy bread for 30 rubles. We got morons. Read slowly and thoughtfully a few times:
440 rub. it is a kilogram of our real bread;
30 rub this is usually 200 gr. poisoned bread substitute.
Once again 440 rub. - 1000 gr.
30 rub - 200 gr.
It turns out that 200 gr. our real bread costs 440: 5 = 88 rubles.
That is, our bread from real non-fat grain, grown without chemical fertilizers in barn storage, we ground flour on our millstones, not with sugar but with better honey, on well water, not on yeast but on sourdough, baked by hand in a Russian oven on wood and all this handmade luxury is only 2,5 times more expensive than your bastard, which you shit-eaters have been eating your whole life with and which are poisoning your unfortunate hunted broods.
88 rub for a standard familiar 200-gram loaf of the most satisfying real bread !!!! Is it expensive for you, cattle? Any pensioner with a 10th pension can afford such bread so that his heart does not hurt. You have enough for shaving blades, enough for TVs, enough for newspapers, enough for doshirak, enough for football and hockey to send your children to school for corruption, enough for damned doctors, for a breadless bread substitute for 30 rub. enough, which you don't get enough, but you only hammer the stomach with baking powder, and for real bread for 88 rubles. lacks? Go to dick, dumb animals. And die on your usual chemical feed. You are systemically disposed of by fools and rightly so - get disposed of. Who wants to die, he will die. You cannot be helped. Even God cannot save a man without a man.
With the deepest contempt for all the stupid godless bastards clinging to their usual poisonous hawk, and with the deepest respect for all those who, in our hunted time, are trying to find real healthy food for their children.
Glory to Jesus Christ!
German Sterligov (baker of all Russia)
he summed up.
Well-grounded comments of readers that in a standard loaf of bread in Russia 400 gr., And not 200 gr., Sterligov ignored, as, however, other comments. Does this really look like real Russian patriotism? It's even scary to think if people like Sterligov ever come to power in our multinational and multiconfessional country.