On March 28, 2019, it became known that the parade convertible of the executive class Aurus, known as the Cortege project, is being prepared for the Victory Parade, which will be held on Red Square in Moscow on May 9, 2019. Prior to this, two vehicles of the Russian Ministry of Defense of the representative class ZIL 41041 AMG took part in the Victory Parades, under the numbers 0001 MO 77 and 0002 MO 77, the Minister of Defense moved on one and the commander of the ground forces on the other. How everything will look this time is unclear.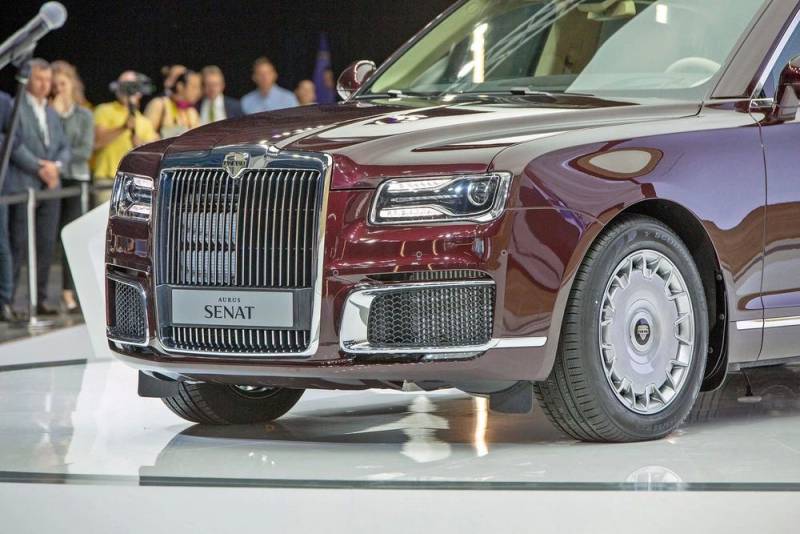 It should be noted that back in 2017, there were rumors that at the Victory Parade on May 9, 2018, Aurus will travel along the cobbles of the main square of the country. Then, at the end of August 2018, the Minister of Industry and Trade Denis Manturov announced that a convertible should appear in the Cortege project. Will it be an option for the Aurus S600 sedan or the L700 limo, he did not say.
On May 9 - exactly yes, the question is - what year. I can not promise that it will be 2019, but in 2020 I promise 100%
- Manturov specified then.
We remind you that the "line" of Aurus, in addition to the convertible, includes: sedan, limousine, minivan, SUV and motorcycle (electric - in development). Sales of Aurus products on the Russian market began in January 2019.
But not everything is so smooth, because some are going to prevent the Russian company from entering the world market. Thus, Toyota, Lamborghini and Michelin have filed a patent application for the luxury company Aurus with the Intellectual Property Office of the European Union (EUIPO). They sneak up on the similarity of the name Aurus with some of its products. At the same time, they do not complain about each other and everything suits them. For example, Toyota has a car called Auris, Lamborghini has a Urus car, and Michelin has a Taurus sub-brand. But it is the Russian Aurus that bothers everyone.
And whether or not the Aurus convertible will appear on Red Square on May 9, 2019, we will find out very soon. The wait is not long. And changing the vehicle to participate in the Victory Parade is necessary. After all, they show there not retro cars, but advanced achievements.