Deputy Prime Minister of Russia for the defense industry Yuri Borisov said that redesigning the wing for the Irkut MS-21 aircraft ("XNUMXst Century Mainline Aircraft") is not required. This issue arose in connection with the replacement of American composite materials by Russian composites. He said this to reporters following a visit to a special
economic
zones (SEZ) Alabuga (Republic of Tatarstan).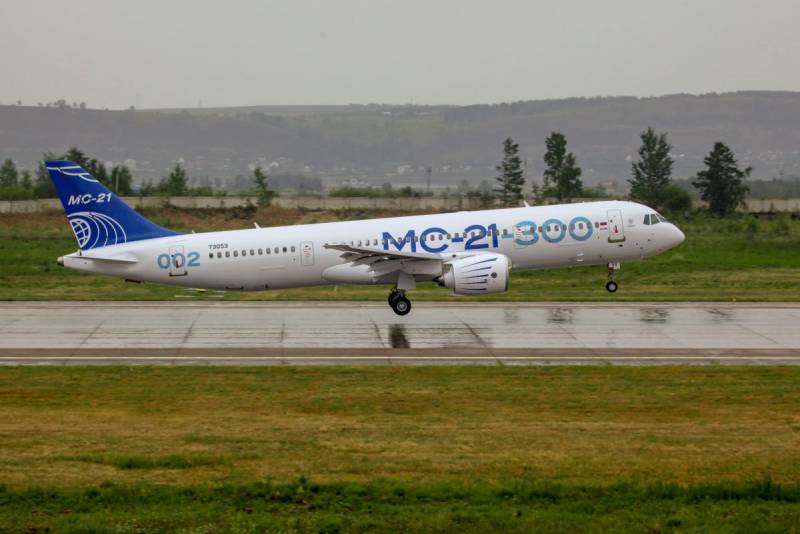 It should be noted that in Russia over the past five years, work has been carried out to create
Technology
manufacturing composite structures from domestic materials. And now these developments have shifted to the practical plane.
Borisov said that all necessary measures had been taken to import replace all composites and release final samples that had already confirmed their basic characteristics. After which he emphasized that it would not be necessary to redesign the composite wing of the MC-21.
The Vice Prime Minister noted that the refusal of the American "partners" to supply materials for the production of the composite wing of the MC-21 is not a secret and the reasons for this are known. After that, he clarified that this did not affect the desire and ability of the Russian side to bring the aviation project to its logical conclusion. Borisov added that the certification of MS-21 should be completed in 2020.
We expect that in 2021 the aircraft will remain competitive. If we all succeed, then in accordance with our plans, he will have a happy life
- summed up Borisov.
It should be recalled that the MS-21 is a Russian near-medium-range narrow-body narrow-body passenger aircraft of a new generation. Capacity, depending on the version of the aircraft (MS-21-200 or MS-21-300), varies from 132 to 211 (maximum) passengers. The plane made its first flight on May 28, 2017.
Initially, serial production of aircraft was supposed to begin in 2018, but it was postponed to 2020. Now the launch of the series is scheduled for 2021 and Aeroflot promises to be the first operator of new aircraft.
The main competitors of the Russian MS-21 in the world market will be: the Chinese COMAS S919, the American Boeing-737 MAX and the European Airbus A220 and Airbus A320neo.