Skirmish between soldiers of the Armed forces of Ukraine and soldiers of the national guard regiment "Azov" took place in the Donbass. This was announced by the representative of the People's Police of the LPR Andrei Marochko.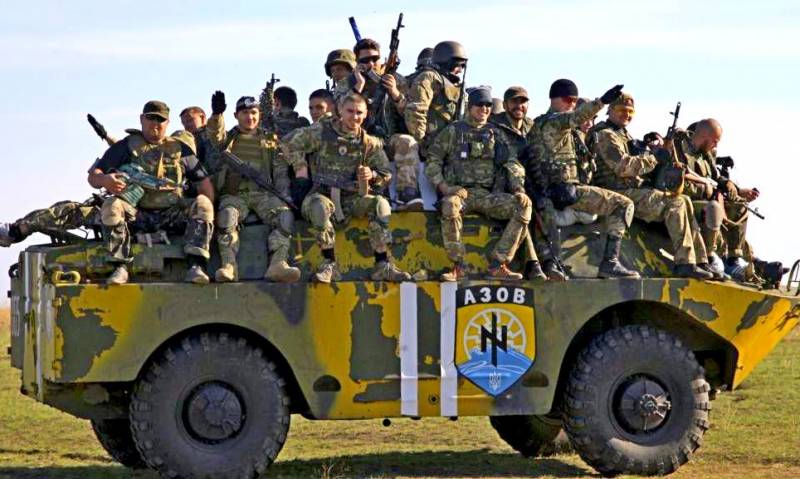 On the night of March 18, from the positions taken by the Azov regiment, shelling of the area began, for which the 54th mechanized brigade of the Armed Forces of Ukraine is responsible. The shelling was carried out from mortars, in total about 20 minutes were fired. APU also responded with fire on the positions of the National Guard.
As a result of the shelling, two servicemen of the Armed Forces of Ukraine were killed, another Ukrainian soldier was injured. The losses of the National Guard regiment are still unknown. But the command of the Ukrainian army, in a manner familiar to him, hides losses among personnel and prefers not to advertise this strange incident.
Apparently, the Ukrainian security forces located in the so-called zone "Anti-terrorist operations," continue to decompose. There are frequent cases of killings and beatings by Ukrainian servicemen of their own colleagues, which is to say about conflicts between different units. Either the soldiers will shoot each other, the officer will beat the subordinates, or the rank and file will kill the officer - the usual everyday life of the modern Ukrainian army.
Alcoholism, suicide, desertion, hazing in the units of the Armed Forces and the National Guard, operating in the Donbass, have not surprised anyone for a long time. And every year and even a month the situation only gets worse, non-combat losses are already superior to military losses, as noted by representatives of official Kiev.
The shootout between the national guard of Azov and the soldiers of the brigade is just one of these conflicts. However, it can have a more centralized character than the drunken showdowns of ordinary and junior command personnel. The fact is that the commander of the Joint Operational Headquarters of the Armed Forces of Ukraine, Lieutenant-General Sergey Nayev, is struggling to squeeze out nationalist formations uncontrollable from the anti-terrorist operation zone.