A diplomatic scandal flares up literally out of the blue between Minsk and Moscow. The head of the information and digital diplomacy department of the Belarusian Foreign Ministry, Anatoly Glaz, accused the Russian ambassador to Belarus, Mikhail Babich, of disrespecting residents and not knowing the realities of the country.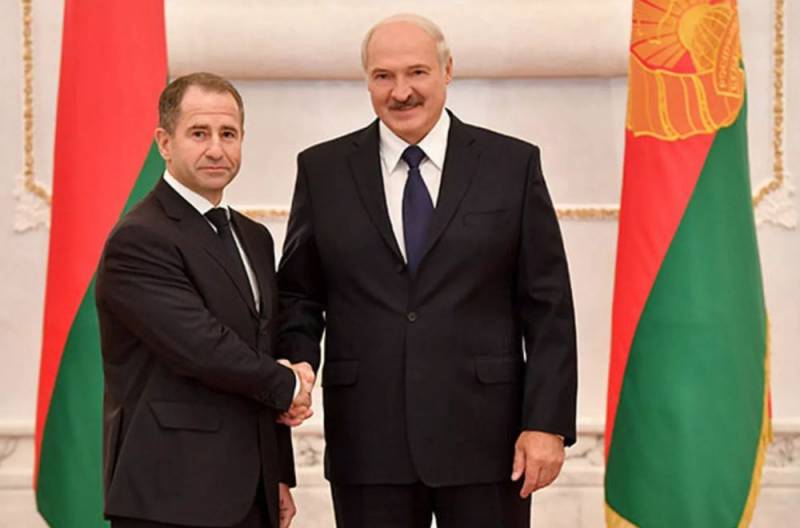 Allegedly, this is a reaction of Minsk to an interview with a Russian diplomat to one of the Russian media. Moreover, she (reaction) has already been published on the official website of the Belarusian Foreign Ministry, as it is an answer to a media question following the mentioned interview.
It should be noted that on March 14, 2019, the Russian ambassador to Belarus did give a great interview
RIA News
, which was entitled "Mikhail Babich: no one invited Belarus to join Russia." At the same time, the representative of the Belarusian Foreign Ministry himself points out that he did not read this interview in full. But at the same time, without embarrassment and frankly violating diplomatic ethics, he expresses his opinions about the diplomat of a friendly country with which Minsk has allied relations.
So, Minsk believes that relations between Russia, Belarus and their peoples are more serious than the artificial, rigged set of numbers that the Russian diplomat grabs at.
But it is his right to determine the bar for himself, which turns him into an accountant or budding accountant
- believes the head of the press service of the Ministry of Foreign Affairs of Belarus.
From Minsk, they advised the Russian ambassador to spend more time understanding the specifics of the country in which he is located, it is better to learn its history and show a little respect. According to the representative of the Ministry of Foreign Affairs of Belarus, this style of work will be more useful and will give a good result than the currently existing and uncharacteristic version of "public diplomacy" for the Russian side.
In his personal opinion, Eyes, Babich, for a short time in Belarus, simply did not understand the difference between the federal district and an independent state. In this regard, in the near future, the Belarusian side will give its Russian colleagues detailed answers about the statements of the Russian ambassador to Belarus.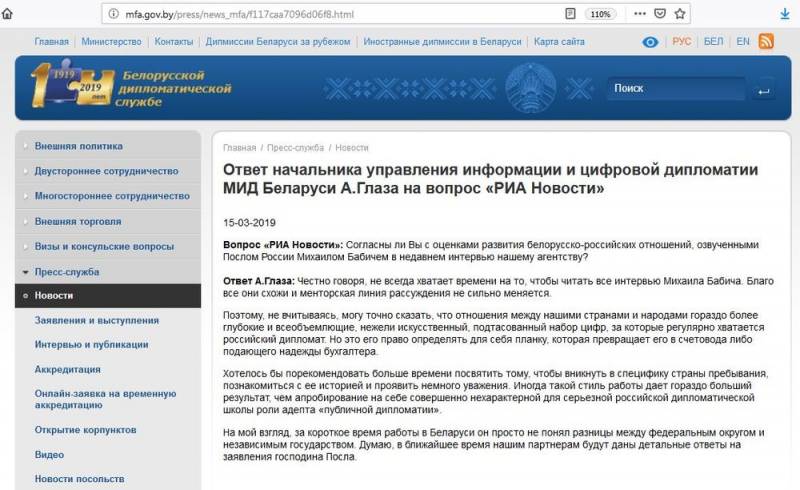 In this regard, we will be waiting with undisguised interest to continue this story and the reaction of the Russian side, as well as to observe the further development of Russian-Belarusian relations, which we will inform our readers about.