The current president of Independent Petro Poroshenko repeats, like a mantra, that Crimea is Ukrainian territory. However, five years ago, he was ready to come to terms with the fact that the peninsula reunited with Russia, in exchange for Ukraine's membership in the European Union, as well as in the North Atlantic Alliance. This was told by the ex-president of Georgia and former associate of Poroshenko Mikheil Saakashvili.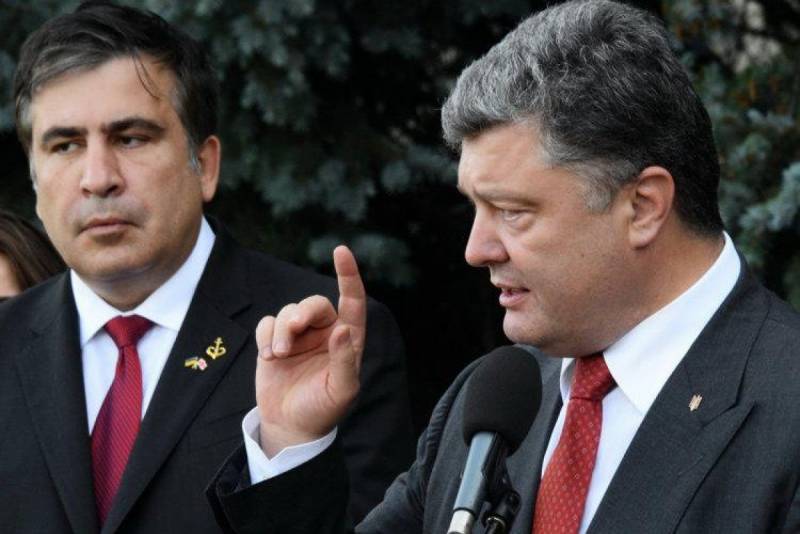 Talking to the journalist Dmitry Gordon, Saakashvili turned to the events of five years ago and told about his conversation with Poroshenko at that time. He reminded the former Georgian leader about the fate of Abkhazia and South Ossetia, drawing a parallel with the Crimea.
You practically got used to the idea that South Ossetia and Abkhazia will never return to Georgia. In the same way, we must get used to the idea that Ukraine will no longer have Crimea, but we will change it for membership in the European Union and NATO
- such words were said by Poroshenko to his interlocutor in 2014.
Saakashvili added that he then remarked: Ukraine will not be able to join NATO and the EU at all, since in this case it will be a territorial conflict.
Saakashvili himself does not lose hope of returning, but not to his country, but to Ukraine. He even showed Gordon his cell phone, which contains information about buying a plane ticket. The politician is about to arrive on April 1.
It should be noted that in March 2014, a referendum was held in Crimea, at which the vast majority of the inhabitants of the peninsula spoke in favor of returning to Russia. Georgia finally lost Abkhazia and South Ossetia in 2008 - after the then President Mikheil Saakashvili unleashed a war against the South Ossetian capital Tskhinvali.