The closer the date of the next presidential election in Ukraine, the more active the country's inhabitants are interested in the questions of what kind of alcohol the current "guarantor" Petro Poroshenko uses, who actively wants to be re-elected to the second line. It got to the point that these questions, which became topical, had to be answered by a person close to Poroshenko, whom he, no doubt, fully trusts.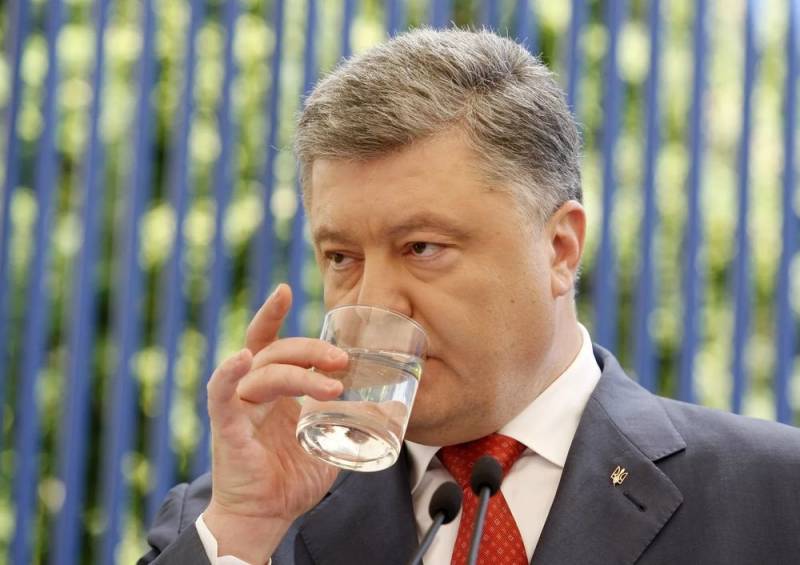 After that, on the air of the "patriotic" television channel with the speaking name ZIK, speechwriter of the Ukrainian president Oleg Medvedev materialized. It was he who commented on all these reports that allegedly Poroshenko was suffering from alcoholism. Medvedev called this information "fake", now a fashionable word, like his work. It turns out, according to the speechwriter, Poroshenko does not drink alcohol at all, i.e. he is a teetotaler. So now, all of Ukraine can breathe a sigh of relief.
Even in some situations that are not very frequent for me, when there are some glasses with champagne or something else, he does not drink, but rather he buys
- Medvedev emphasized without blinking.
It must be recalled that Poroshenko was repeatedly suspected of being drunk in public when he uttered outright "pearls". Indeed, if he quietly "thumped" in his office or at home, this would not have caused such a resonance. This is what many citizens of Ukraine think about, and now openly say, "drank - don't get on the TV, don't disgrace yourself and don't disgrace us". And during the five years of Poroshenko's presidency, many such cases have already accumulated. Not to mention the fact that "patriots" who know Poroshenko personally, that is, openly speak about this now former high-ranking officials who managed to get in power after the "revolution of dignity".
As for the person of the speechwriter himself with a Russian surname, she is very interesting, for purely cognitive purposes. Oleg Alexandrovich Medvedev was born in 1969 in Lisichansk (Lugansk region, USSR). After school, he entered one of the most prestigious universities in the world - the Moscow State Institute of International Relations (MGIMO). Then he worked for a decade in the media in Russia: Kommersant, Post-factum, Kievskiye Vedomosti (Moscow bureau), and Business People.
In 2003, he became a consultant to Viktor Yushchenko in Ukraine. In 2005, he heads the Ukrainian Observer and becomes an adviser to Yulia Tymoshenko. From 2008 to 2011, he was already a deputy of the Kiev City Council in the BYuT-Batkivshchyna faction. On July 25, 2014, Medvedev became a freelance assistant to Petro Poroshenko, and in the 2019 presidential election he is the speaker of the "guarantor" campaign headquarters. At the end of February 2019, he was awarded the Ivan Mazepa Cross for his courage during the "Revolution of Dignity". So such a "patriot" will not lie.