Air accidents with a large number of casualties have recently begun to accompany the products of the largest representative of the aviation industry on the planet. And this applies to the newest and best-selling line of American aircraft - the Boeing 737 MAX. Therefore, it is not surprising that the Civil Aviation Administration of China decided to suspend the operation of such airliners. It is reported by Reuters, citing Chinese media.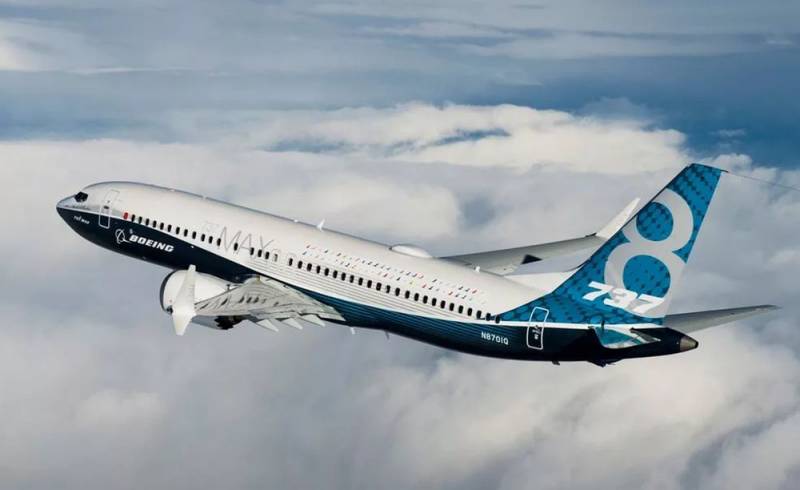 It should be recalled that on March 10, 2019, Ethiopian Airlines (the largest airline on the African continent) crashed in Ethiopia in Ethiopia, all 737 people on board died (157 passengers and 149 crew members). The airliner was heading from Addis Ababa (Ethiopian capital) to Nairobi (Kenyan capital). 8 minutes after takeoff, the aircraft managed to pick up speed up to 6 km / h. and rise to a height of 700 km. But something went wrong. On board were representatives of 2,6 countries, including: 33 Russians, 3 Kenyans, 32 Canadians, 21 Ethiopians, 17 Americans, 8 Italians, 8 Chinese, 8 British, 7 French, 7 Egyptians, 6 Dutch, 5 Indians, 4 Moroccans , 2 Israelis, one citizen of Belgium, Uganda, Yemen, Togo, Sudan, Mozambique and Norway, 2 more passengers had UN passports.
Before that, in October 2018, a similar plane crash occurred in Indonesia (we her
in detail
described). Then the Boeing 737 MAX of the Lion Air carrier, which flew along the Jakarta-Pangkalpinang route, with flight JT-610, crashed into the sea near the island of Java. On board were 189 people (181 passengers and 8 crew members). They all died. The catastrophe occurred 13 minutes after departure.
By a strange coincidence, an emergency with narrow-bodied medium-range airliners Boeing 737 MAX occurs at the time of take-off or climb (a "smart" car just breaks down in the peak) and the Chinese have already paid attention to this. Now all 60 Boeing 737 MAX Chinese airlines are "riveted" to the ground, and until experts figure it out, these planes will not rise into the sky. Instead, they want to use the Boeing 737-800. Moreover, Boeing doesn't comment on this at all, which is not surprising, because even the company responds to disasters with the on-line phrase "we are in the know and we are closely monitoring the situation". That's all the attention of the American aircraft manufacturer and limited.