The new APU chevrons became yet another clear demonstration of the "bright" and "progressive" nationalist future that the local "patriots" prophesied to Ukraine. It is especially symbolic that the Ukrainian military timed this event to the birthday of Taras Shevchenko, which the chief of the General Staff of Ukraine Viktor Muzhenko did not fail to recall on his Facebook page.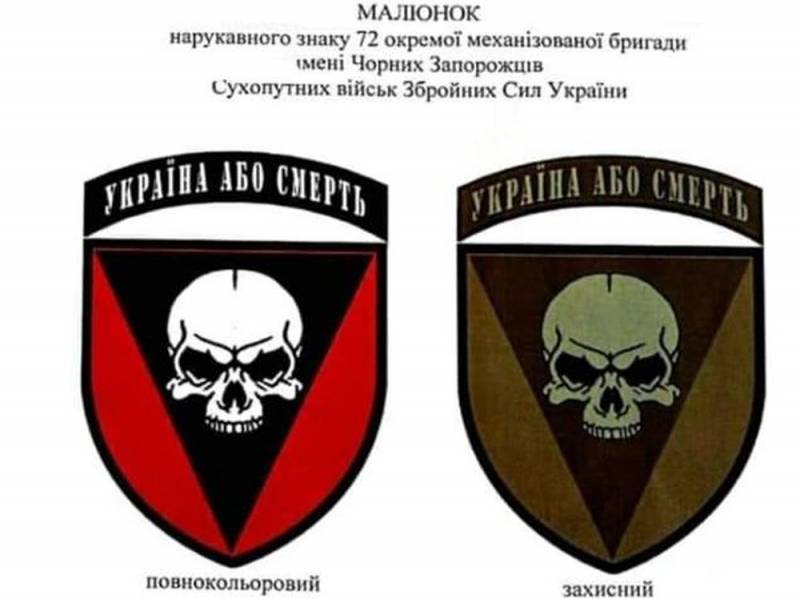 It is clarified that to raise the morale of servicemen of the 30th separate mechanized brigade named after Prince Konstantin of Ostrog, 58th Separate Motorized Infantry Brigade named after Hetman Ivan Vygovsky and the 72nd separate mechanized brigade named after Black Zaporozhets of the Ground Forces of the Armed Forces, new emblems (chevrons) were specially developed. It is emphasized that they are made in the same style and contain the inscriptions: "By Divine Grace", "Together to Victory" and "Ukraine or Death".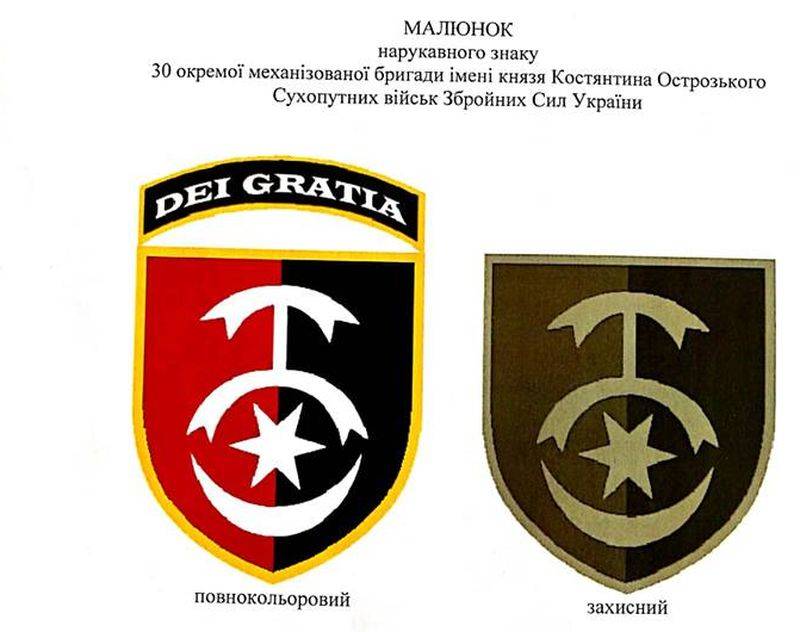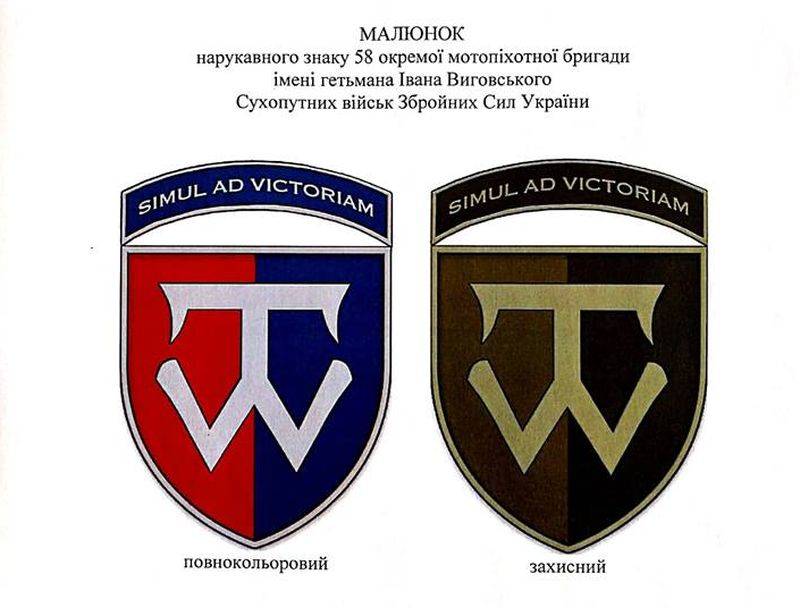 Moreover, only one of the inscriptions is made in the state language (mov). How much taxpayers' money has been written off for this is not specified, but everyone is already accustomed to such a "tremulous" appeal by the Ukrainian Ministry of Defense to uniforms, which, over the past five years, they have already managed to change several times.
Naturally, in Russia they could not pass by such a creative, especially the image of the human skull with the touching inscription "Ukraine or death" ("Ukraine or death"). And this is understandable, because such symbolism is very reminiscent of the symbolism of the Third Reich, which, however, is not surprising, because it is there that Ukrainian "patriots" draw their inspiration.
For example, the deputy of the State Duma of Russia, the first deputy chairman of the committee on CIS affairs, Eurasian integration and relations with compatriots Viktor Vodolatsky, commented on this as follows:
Given that today Poroshenko, and his entire team, which includes the chief of the general staff and the defense minister, are adherents of Nazi symbols or what Nazi symbols symbolize today, so the skull with bones is "Ukraine or death". They believe that with such chevrons they will raise morale.
Vodolatsky is convinced that the image of a skull with the inscription "Ukraine or death" will not help to raise morale either in the army or in the country, and accordingly will not bring the "help" that someone hopes for. On the contrary, such symbolism will only make, once again, the international community think about what is happening in Ukraine.