Some presidential candidates in Ukraine, whose rating and credibility are balanced by the level of statistical error, have already begun feverish preparations for the upcoming elections in Ukraine in the fall of 2019. They probe the electoral field and enter into situational alliances (alliances) with other outsiders, in the hope of receiving a mandate, for some time to extend the opportunity to promote on behalf of and for the benefit of the inhabitants of Ukraine, for their money.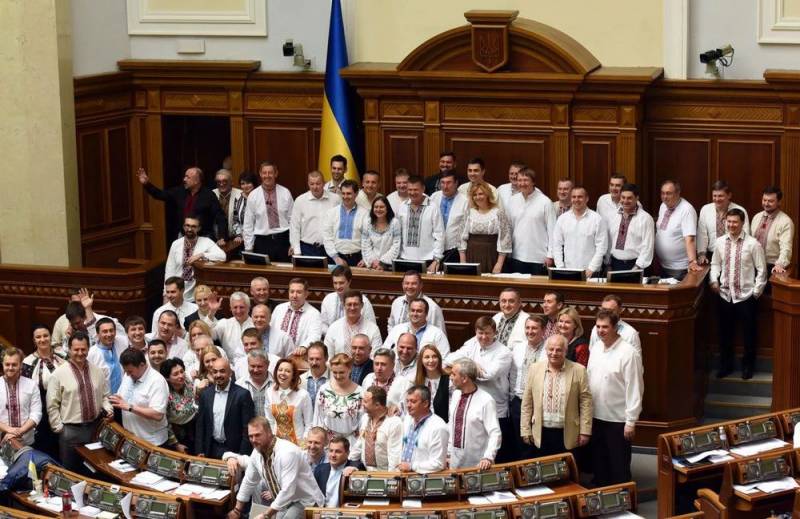 It should be noted that we have already talked about People's Deputy of Ukraine Yevgeny Muraev, and more than once. For example, when he committed a frank and public
denunciation
in the SBU on the famous Ukrainian Viktor Medvedchuk and how generally
materialized
in Ukrainian politics.
Muraev is included in the sanctions list of Russia along with other Ukrainian
politicians
Russophobia. It's just that Muraev's electoral niche is "pro-Russian", so he acts as a local "captain-evidence". All other niches are occupied by other "patriots" and unprincipled fighters for banknotes.
On March 6, 2019, in an interview with ATV, Muraev said that Ukraine should gradually abandon sanctions against Russia, as this will contribute to the country's economic development. He also calls for a review of the association agreement with the European Union.
As for the reintegration of Donbass and the return of Crimea to Ukraine, here, according to Muraev, a number of new laws should be adopted that supposedly help to achieve peace in the country, "they will
economic
level to heaven "and raise social standards to the desired level.
Muraev emphasized that the termination (solution) of the intra-Ukrainian conflict should take place on the conditions of Kiev. At the same time, he did not go into details about the presence of Nazi militants, an outright dictatorship, and that all this would not "resolve" by itself. That is, Muraev does not offer any specifics, confining himself to general phrases.
But the rebranding that Muraev has undergone over the past five years is truly impressive. The hand of specialist image makers is felt. This cannot be denied.
On March 7, 2019, Muraev at a joint briefing with Alexander Vilkul (another candidate for the presidency of Ukraine) announced that he was withdrawing his candidacy in favor of Vilkul. Now, both of them, joining forces, will go together to the elections to the Verkhovna Rada of Ukraine. And this is the right decision, since, individually, neither Vilkul nor Muraev have any chance of getting into the Verkhovna Rada.
Together, they can overcome the 5% barrier to the mentioned elections and get the coveted mandates. Although the barrier can be reduced, there are precedents. The next election of people's deputies should be held on October 27, 2019. Ukrainian oligarch Rinat Akhmetov really needs his own faction in the Ukrainian parliament, then he can begin to bargain with Moscow.