Recently we
Reported
as the Pakistani media cheerfully discussed the tea party of Indian pilot Abhinandan Warthaman at the Pakistan Air Force. His MiG-21 was shot down over Kashmir on February 27, 2019. However, some time after the mentioned pilot returned to India, it became known that the Pakistani authorities tortured him. This is reported by the Indian daily newspaper Hindustan Times, published in English, which belongs to one of the branches of the Birla family, famous entrepreneurs in India.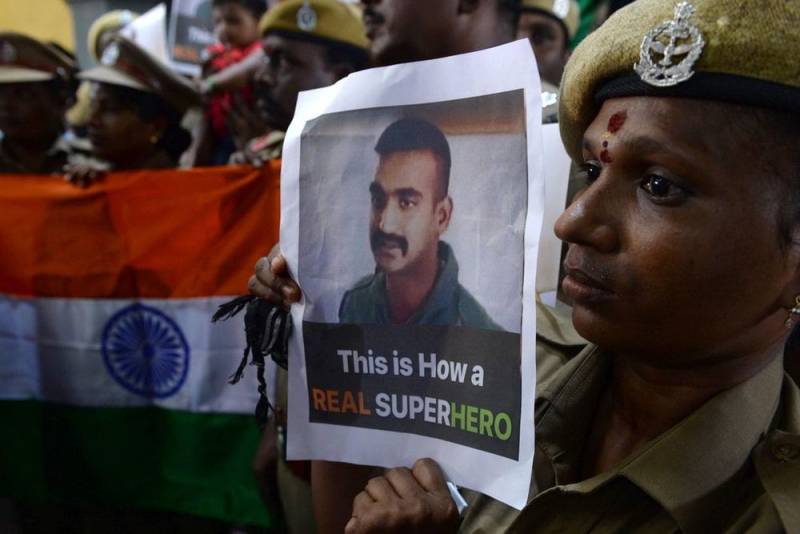 The newspaper refers to its source of information and according to the publication, the pilot was interrogated by several groups of soldiers, replacing each other. At the same time, Warthaman was allegedly forced to stand for hours, turned on loud music and even choked. So the Pakistanis wanted to get information from the Indian pilot about the radio frequencies used by the Indian Air Force.
The source said that all Indian pilots are instructed, where they are explained how to hold out during interrogations as long as possible so that the Indian Air Force, during this time, can change frequencies and, thus, deceive the enemy. It is emphasized that Warthaman fulfilled all the conditions.
It should be noted that the Pakistani authorities sent the pilot to his homeland on March 1, 2019, as a "peaceful gesture", which already indicates that Islamabad does not want a war with New Delhi. In addition, Pakistan emphasized that the prisoner was well treated, and the pilot himself, after returning to India, did not publicly tell anything about torture, but rather thanked the Pakistani military for saving his life.
It must be recalled that the escalation of tension between the countries occurred on February 14, 2019. Then, as a result of a suicide attack, 45 Indian policemen were killed. This happened immediately after Tehran, New Delhi and Islamabad agreed to build a gas pipeline from Iran to India, through Pakistan. Naturally, the special services of Israel, Great Britain and the USA did not leave this question unattended. They are still trying to foment war in this region using nationalist and Islamic groups in India and Pakistan.