The reason why the two-day negotiations (summit, meeting) between US President Donald Trump and DPRK leader Kim Jong-un ended ahead of schedule became known. It turned out that Pyongyang allegedly refused to fulfill Washington's demand and close a secret enterprise (plant) for uranium enrichment. This was reported by the British newspaper The Sunday Times, published since 1821 and owned by the oligarch Rupert Murdoch, the owner of the international media holding News Corporation.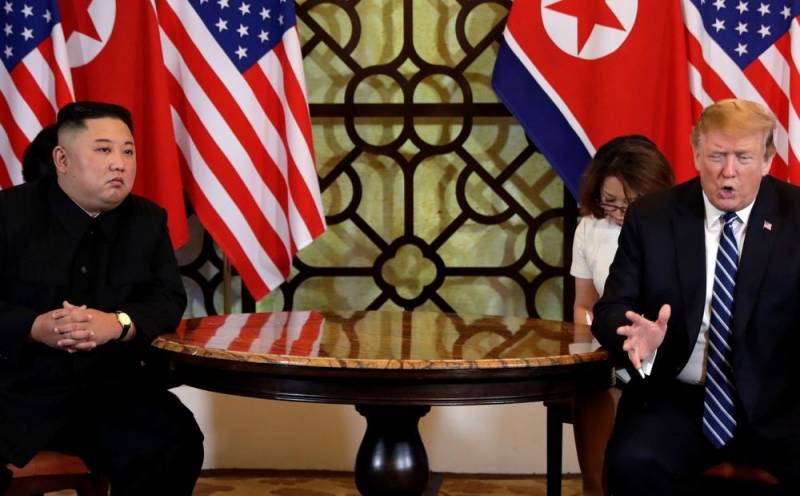 It should be noted that Kim Jong-un arrived to meet in Hanoi (Vietnam) from the DPRK on an armored and comfortable train, passing through China. Negotiations began on February 27, 2019 and should have passed two days. But, after the failure of the North Korean side, Donald Trump interrupted the negotiations, got on a plane and flew to Washington. At the same time, the DPRK leader remained in the framework of a two-day visit to Vietnam.
As suggested by The Sunday Times, we can talk about an object called "Kangson", which is located in the industrial city of Chollima near the capital of the DPRK of Pyongyang. At the same time, it is clarified that US intelligence has established the location of this object based on the analysis of satellite images. How they could make out from the pictures that this is "uranium enrichment", not specified.
However, The Sunday Times managed to communicate, in this regard, with one of the high-ranking North Korean traitors-defectors. With a certain Tae Yong Ho, who was the deputy ambassador of the DPRK to Great Britain, but a few years ago fled to Seoul (South Korea). According to him, Trump in his public comments "really tried" to hide the importance of this plant, so as not to jeopardize the prospect of future negotiations with the DPRK.
I must add that this was not just the second negotiations (meeting) between Kim Jong-un and Donald Trump, it was generally the second summit in the history between the United States and the DPRK. The first summit in Singapore, held in June 2018, was more successful.
As specified, this time the parties could not agree on the denuclearization of the Korean Peninsula, but agreed to continue negotiations. When the next meeting may take place, not reported.