China's aircraft industry is developing dynamically and replenishment is expected in the family of Chinese regional aircraft. The already operating Xinzhou-60 (MA60) and Xinzhou-600 (MA600) will soon be supplemented by their mid-range counterpart, Xinzhou-700 (MA700) or New Boat 700.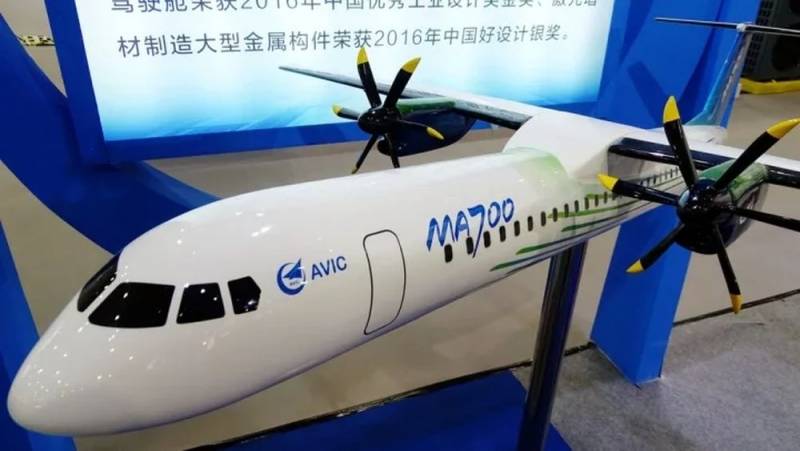 The China State Aviation Industry Corporation (AVIC), which has been developing this turboprop aircraft since 2013, expects that the first flight of the Xinzhou-700 will be completed before the end of 2019. At the same time, AVIC assures that the first copy of the Xinzhou-700 will roll off the assembly line in September 2019. The project is already at the stage of pilot production and testing. What is the Chinese news agency Xinhua reporting?
It is specified that Xinzhou-700 can reach speeds of up to 637 km / h and climb to an altitude of 5,4 thousand meters on one engine. The aircraft are designed to operate at airfields with a short runway in high mountains and temperature extremes. The aircraft has two engines, roughly these are Pratt & Whitney Canada PW150C turboprop aircraft engines, each of which has a thrust of 3200 hp.
The Xinzhou-700 will be able to carry 70 passengers (possibly 85), working on regional lines with a length of 800 to 2300 km. Moreover, 11 agreements have already been signed with Chinese and foreign airlines for the supply of 185 new Chinese regional aircraft. The maximum take-off weight of the aircraft will be 27,6 tons. It will be able to enter the market approximately by 2021, when it receives the appropriate certificate of validity from the aviation authorities.
We remind you that the Xinzhou-700 is a competitor to the Soviet and Russian IL-114 turboprops, which were designed to replace the An-24 aircraft. Il-114 made its first flight back in 1990. In total, 18 aircraft were produced, of which 17 at the Tashkent Aviation Production Association named after Chkalova (TAPOiCH) in Uzbekistan.
In 2010, it was decided to resume the production of IL-114 in Russia. At the beginning of 2019, it became known that the assembly of the prototype IL-114-300 was planned to be completed by the summer of 2019. Its flight tests are scheduled for 2020, and the first production aircraft will appear in 2021.