It became known that on February 26, 2019, observers of the OSCE Special Monitoring Mission (SMM), in the amount of six people in two armored vehicles, as well as a six-person repair team that was involved in repairing the water supply, were fired on in the territory controlled by the LPR. This was reported on
official
OSCE SMM website.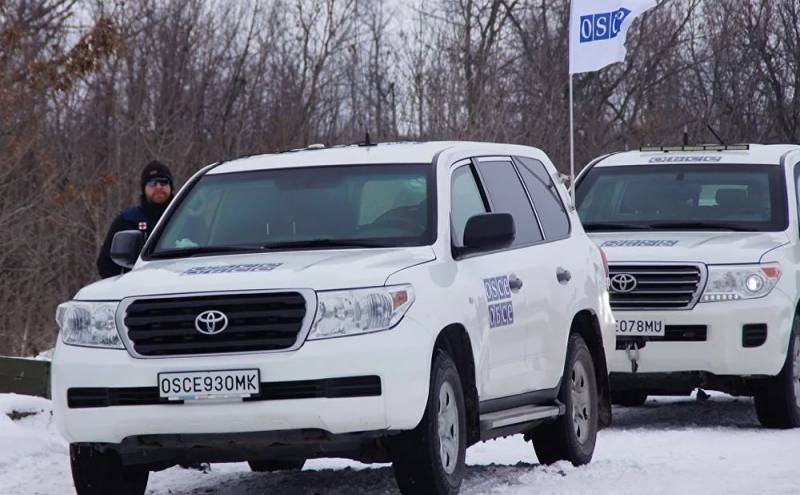 The report said that on the morning of February 26, 2019, the aforementioned SMM patrol was located on the western outskirts of Zolotoe-5 (Mikhailovka), 58 km away. west of Lugansk (at a distance of about 500 meters east of the eastern edge of the demarcation line section). The mentioned patrol carried out monitoring (monitoring) of the security situation in the area to ensure that repair work was carried out on the water supply in this village.
Three mission members were in cars, and three were observing from outside while near cars. At that time, the workers of the working team of the Lugansk water supply company (as indicated in the report) carried out repairs, being located approximately 100 meters to the north-north-west from the location of the SMM.
OSCE officials noted that despite security guarantees provided, at 12:18 pm, SMM patrol observers standing near the cars heard about five small arms shots approximately 200 meters west-north-west, and then the sound of bullets, flying about 10 meters above their heads. The bullets hit at least one tree 5-10 meters southeast of the location of the SMM.
After that, three SMM members who were outside hid in armored cars, from where they saw how workers of the Lugansk water supply company hide behind a tractor. At 12:20, the SMM patrol and the workers' brigade left the area. No injuries or damage to property are reported. OSCE staff returned to their base, which is located in the village of Kadievka (Stakhanov), 50 km west of Lugansk.
It should be noted that the destruction of the infrastructure of the territories of Donbass not controlled by Kiev, as well as the prevention of repair or restoration work, have become a favorite tactic of the Armed Forces. In addition, we recently reported how Ukrainian intelligence agencies
threaten
the families of the defenders of Donbass and how the APU pull
artillery
to the line of demarcation.