It became known that the Ukrainian state-owned enterprise Yuzhmash, which, as it were, still specializes in the development of space rocket
equipment
, and not just trolleybuses, decided to initiate the construction of a floating spaceport in the Kherson region. This was told to the Ukrainian media by Sergey Voight, a wealthy director of the poor Yuzhmash, who materialized at the enterprise after the Maidan in 2014.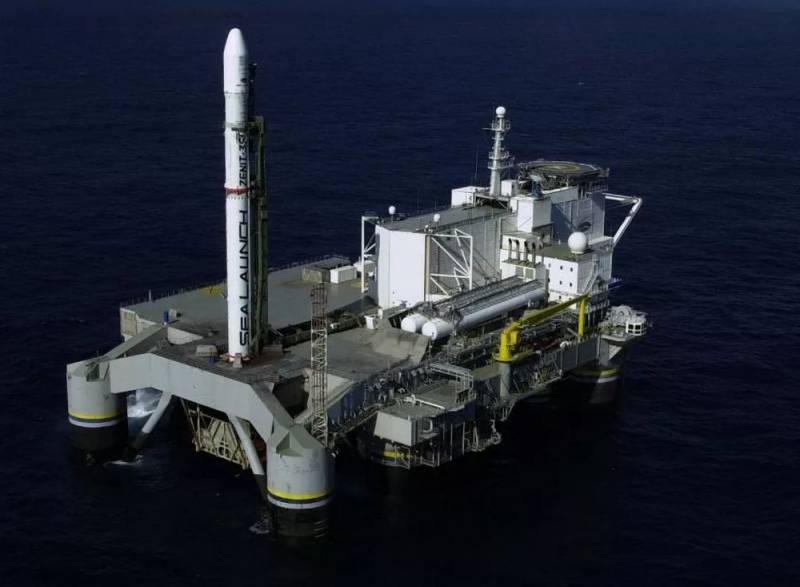 Ukraine does not have its own cosmodrome, although only Yuzhmash itself specializes in rocket science and carries out foreign economic activity with 23 countries, including Europe. We have long needed to have our own platform for launching missiles, and we can create it in the Kherson region
- Voight pointedly stated, making it clear that Ukraine is not only an "agrarian superpower", but also "space".
It should be noted that, according to the director of Yuzhmash, Kherson State Pallada plant has already shown willingness to cooperate on this issue. This, incidentally, is not surprising, because Pallada is indeed a great specialist in the manufacture of modern reinforced concrete floating docks, which are located in many countries of the world and are operated in different climatic conditions.
But from the presence of one floating platform, the spaceport will not appear. It is not in vain that, in due time, Ukraine got rid of its share in one such international project. In 1995, the Sea Launch company was organized - a floating spaceport for launching Soviet Zenit missiles, which were manufactured by Yuzhnoye Design Bureau. The consortium included Boeing (USA), RSC Energia, Kvaerner (Norway), Yuzhnoye Design Bureau and Yuzhmash Production Association (Ukraine). Real launches were carried out, but the company could not stand the competition with land space centers and went bankrupt. And Voight is well aware of this, he just wants Ukraine to step on the "rake" once again, and he, during this time, will "master" it for himself personally.
It must be recalled that Kiev even made a real attempt to acquire a spaceport in another country. From 2003 to 2015, the epic for the construction of a cosmodrome in Brazil lasted. There was also talk about space centers in Australia and Canada, but that was after the Maidan and it was just talk. And in 2018, Ukraine even planned to form a committee of high-tech enterprises, which was supposed to start developing a lunar base project. But everything "resolved" even at the stage of organizing the process of "conception", i.e. structure formation.